Marine Weather and Tides
Kekaha, HI

Version 3.4
NOTICE
10/9/2019 Updated the Marine Zones.
9/4/2019 Fixed the weather maps due to NOAA moving them.
7/25/2019 New feature in the Airports section gives a link to 5 minute updates for data reports.
6/2/2019. Many thanks to a user for reporting an error on one of the Edit pages. The switch to PHP 7.2 caused many pages that previously worked to quit working. I fixed many but I still depend on users to report ones I missed. Please report errors HERE or send an email to me at L-36.com. Allen

---
| | | | | | | |
| --- | --- | --- | --- | --- | --- | --- |
| Sunrise 6:58AM | Sunset 5:51PM | Tuesday December 10, 2019 6:26 AM HST (16:26 UTC) | Moonrise 4:31PM | Moonset 5:11AM | Illumination 98% | |
NOTE: Some of the data on this page has not been verified and should be used with that in mind. It may and occasionally will, be wrong. The tide reports are by xtide and are NOT FOR NAVIGATION.
---
---
7 Day Forecast for Marine Location Near Kekaha, HI
Hourly
EDIT
Help
---
&nbsp
(on/off)
&nbsp
Help
NOTE: mouseover dotted underlined text for definition
FXHW60 PHFO 101339 AFDHFO
Area Forecast Discussion National Weather Service Honolulu HI 339 AM HST Tue Dec 10 2019
SYNOPSIS.
Light easterly winds will persist through Wednesday, which will allow the land and sea breeze regime to continue for most areas. Outside of a few clouds and showers setting up over interior areas each afternoon due to sea breezes, mostly dry and stable conditions are anticipated through this time. A modest increase in moisture is expected through the second half of the week as an upper disturbance and cold front approach and move into the area. Shower coverage will trend up through this time with breezy northeast to east trade winds returning. A more typical trade wind pattern appears likely for the upcoming weekend as drier air fills in.
DISCUSSION.
Water vapor imagery showed a ridge extending eastward across the region and a shortwave trough far northeast of the state driving a cold front toward the west coast. The surface analysis showed the tail-end of this frontal boundary stretched out from east to west north of Kauai and a weak ridge extending west-southwestward near the islands. Although mostly dry conditions remain in place, an area of enhanced moisture skirting the southern Big Island waters accompanying a trough passing to the south will continue to support isolated to scattered showers in this area through the early morning hours today.
The latest short-term (through Wednesday) guidance depicts the weak ridge near the islands drifting northward as the stalled frontal boundary just north of Kauai diminishes. This will allow light trades to hold over the eastern end of the state. The land and sea breeze regime, however, remains likely over the western end due to the proximity of this ridge axis. The mostly dry and stable regime should continue with the best chance for a few clouds and showers remaining over interior areas each afternoon due to the sea breezes and peak heating.
For the extended period (Thursday through the weekend), guidance depicts lowering upper heights associated with a strong short wave trough approaching and moving into the area Wednesday night through Friday. Although confidence is beginning to increase as the guidance comes into better agreement, there remains some small differences between the solutions with regard to how far east this upper feature and its attendant cold front make it into the area. Despite these differences, increasing moisture and rainfall chances along with gusty trades remain a possibility Thursday through Friday. Breezy trades along with a drying trend is expected over the weekend as high pressure builds north of the state and the front diminishes.
AVIATION.
Light winds will remain in the forecast through this period. Expect afternoon sea breezes and overnight land breezes. Most of the state will have VFR conditions. The only exception is the southeast coast of the Big Island, which has clouds and showers this morning which is causing some mountain obscuration.
AIRMET Sierra for mountain obscuration is in effect for the south coast of the Big Island from PHTO to South Cape.
MARINE.
The current large northwest swell continues to spread down across exposed coastal waters early this morning. The latest observations from the NDBC buoys, 51001 and 51101, located northwest of Kauai indicate the swell is 9 to 10 feet with a wave period of 13 to 14 seconds. The PacIOOS buoy at Waimea Bay shows the significant wave height about 8 feet with a wave period of around 14 seconds. Therefore, a High Surf Advisory (HSA) remains in effect for most north and west facing shores of the smaller islands.
A significantly larger northwest swell is expected to arrive Wednesday. This swell will likely cause surf to reach the High Surf Warning criteria along most north and west facing shores of the smaller islands starting Wednesday night. This large swell, which is expected to persist into Friday, may also cause surf to reach the HSA criteria along west facing shores of the Big Island starting late Wednesday night or Thursday. The northwest swell is expected to gradually subside from Friday night through Saturday. A new short period north-northeast swell and strengthening trade winds are expected to produce increasing choppy surf along most east facing shores from Friday into Saturday.
The pressure gradient remains disrupted across the main Hawaiian Islands early this morning due to a weak east-northeast to west- southwest oriented frontal boundary located about 125 nm north of Kauai. As a result, the trade winds across the coastal waters remain light to locally moderate. This relatively weak background trade wind flow is expected to persist through Wednesday. We do not anticipate winds will reach the Small Craft Advisory (SCA) criteria over any waters during the next couple of days. That being said, the back to back large northwest swells arriving during the next couple of days will likely cause seas to build. This will result in SCA conditions due to elevated seas starting early Wednesday morning, and continuing into this weekend.
The forecast guidance, which continues to show uncertainties in the details about the winds and weather across the state later this week, appears to indicate a new surface high will build northwest of the islands by Thursday, and move east to a position north of the state later this week. This is expected to push a new front down toward the state from the northwest. The arrival of this front may bring stronger trade winds from Thursday night into Friday. As a result, in addition to the SCA for large seas, winds may reach the SCA criteria over some waters starting Thursday night. For the moment, the forecast indicates these strongest winds will be mainly over the typically windier waters adjacent to the islands of Maui County and the Big Island, and possibly in the vicinity of Kauai. Mariners should monitor future forecasts, since conditions later this week are subject to change due to these forecast uncertainties.
HFO WATCHES/WARNINGS/ADVISORIES.
High Surf Advisory until 6 PM HST Wednesday for Niihau-Kauai Windward-Kauai Leeward-Waianae Coast-Oahu North Shore-Oahu Koolau-Olomana-Molokai-Maui Windward West-Maui Central Valley- Windward Haleakala.
DISCUSSION
.
Gibbs AVIATION
.
Chevalier MARINE
.
Houston
---
Weather Reporting Stations
EDIT
(on/off)
&nbsp
Help
NOTE:
Click on distance to see the station location on a map
---
Airport Reports
EDIT
(on/off)
&nbsp
Help
Click EDIT to display multiple airports. Follow links for more data.
Click EDIT to select an airport
---
Tide / Current Tables for East Island, French Frigate Shoals
EDIT
Weekend mode (on/off)
(on/off)
&nbsp
Help
One Week of Data
East Island
Click for Map
Tue -- 03:14 AM HST 1.57 feet High Tide
Tue -- 06:11 AM HST Moonset
Tue -- 07:36 AM HST Sunrise
Tue -- 10:13 AM HST 0.31 feet Low Tide
Tue -- 02:38 PM HST 0.67 feet High Tide
Tue -- 05:30 PM HST Moonrise
Tue -- 06:18 PM HST Sunset
Tue -- 08:31 PM HST -0.07 feet Low Tide
Tide / Current data from XTide NOT FOR NAVIGATION
12
am
1
am
2
am
3
am
4
am
5
am
6
am
7
am
8
am
9
am
10
am
11
am
12
pm
1
pm
2
pm
3
pm
4
pm
5
pm
6
pm
7
pm
8
pm
9
pm
10
pm
11
pm
0.9
1.2
1.5
1.6
1.5
1.4
1.1
0.8
0.6
0.4
0.3
0.3
0.4
0.6
0.7
0.7
0.6
0.4
0.2
0.1
-0.1
-0.1
0.1
0.3
---
EDIT
(on/off)
&nbsp
Help
---
Weather Map
(on/off)
&nbsp
Help
Weather Map
---
GEOS Local Image of Hawaii
EDIT
NOTE:
East coast views moved to GEOS-16. They are experimental and not well supported by NOAA so they may not be correct so be warned. This change required redoing a large amount of the GOES code. If the image you are expecting is not showing, please let me know. You may need to use the EDIT function to update your location.
Link to Loop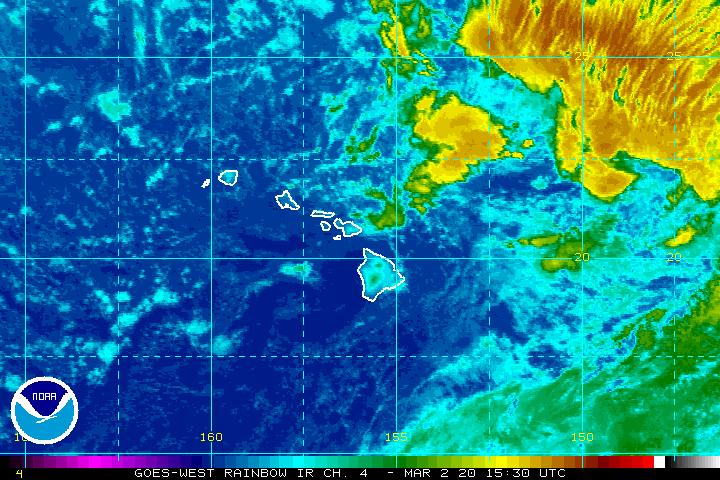 Other links:
Northern Pacific
Contential US
Full GOES-East
---
Wind Forecast for (11,2,3,4)
(on/off)
&nbsp
Help
---
(on/off)
&nbsp
Help

Ad by Google

---
Cookie Policy:
This webiste uses cookies to save your settings. No personal information is saved. You can disable cookies in your browser if you like but it is not recommended for this site. I do not sell cookies. Go to a bakery for that. In fact I do not sell anything. To disable cookies from L-36.com, please refer to the Help button in your browser.
Privacy Policy:
I do not sell or share any user data or anything else for that matter. I do not keep site logs longer than I need to to keep bad actors off the site. Basically, I delete them after looking at them. If you are subject to CCPA, Google ads on this site will not be based on your past behavior so you will likely not see an ad for a lawn mower just because you looked for one at a big box website. I do not believe this site is subject to CCPA but I am doing what I can to follow the guidelines anyway.
Disclaimer:
The information on this web site has not been checked for accuracy. It is for entertainment purposes only and should be independently verified before using for any other reason. There are five sources. 1) Documents and manuals from a variety of sources. These have not been checked for accuracy and in many cases have not even been read by anyone associated with L-36.com. I have no idea of they are useful or accurate, I leave that to the reader. 2) Articles others have written and submitted. If you have questions on these, please contact the author. 3) Articles that represent my personal opinions. These are intended to promote thought and for entertainment. These are not intended to be fact, they are my opinions. 4) Small programs that generate result presented on a web page. Like any computer program, these may and in some cases do have errors. Almost all of these also make simplifying assumptions so they are not totally accurate even if there are no errors. Please verify all results. 5) Weather information is from numerious of sources and is presented automatically. It is not checked for accuracy either by anyone at L-36.com or by the source which is typically the US Government. See the NOAA web site for their disclaimer. Finally, tide and current data on this site is from 2007 and 2008 data bases, which may contain even older data. Changes in harbors due to building or dredging change tides and currents and for that reason many of the locations presented are no longer supported by newer data bases. For example, there is very little tidal current data in newer data bases so current data is likely wrong to some extent. This data is NOT FOR NAVIGATION. See the XTide disclaimer for details. In addition, tide and current are influenced by storms, river flow, and other factors beyond the ability of any predictive program.