Marine Weather and Tides
Levelock, AK

Version 3.4
NOTICE
12/16/2019 NOAA is having trouble with requests that include wind gusts. I am posting graphs without wind gusts until it gets fixed.
10/9/2019 Updated the Marine Zones.
9/4/2019 Fixed the weather maps due to NOAA moving them.
7/25/2019 New feature in the Airports section gives a link to 5 minute updates for data reports.

---
| | | | | | | |
| --- | --- | --- | --- | --- | --- | --- |
| Sunrise 9:42AM | Sunset 4:39PM | Tuesday January 21, 2020 10:30 PM AKST (07:30 UTC) | Moonrise 6:46AM | Moonset 1:17PM | Illumination 9% | |
NOTE: Some of the data on this page has not been verified and should be used with that in mind. It may and occasionally will, be wrong. The tide reports are by xtide and are NOT FOR NAVIGATION.
---
---
7 Day Forecast for Marine Location Near Levelock, AK
Hourly
EDIT
Help
---
&nbsp
(on/off)
&nbsp
Help
NOTE: mouseover dotted underlined text for definition
FXAK68 PAFC 220119 AFDAFC
Southcentral and Southwest Alaska Forecast Discussion National Weather Service Anchorage AK 419 PM AKST Tue Jan 21 2020
ANALYSIS AND UPPER LEVELS.
A mainly zonal flow aloft extends from the Bering into southwest Alaska today, turning more southwesterly for Southcentral. Closer to the surface, infra-red satellite imagery shows a low moving on shore across eastern Prince William Sound, with a pair of meso (small scale) lows near the southern tip of Kodiak Island, and also near Saint Matthew Island. Showery type precipitation is seen in various data sets with all of these features.
MODEL DISCUSSION.
The models remain in good agreement through Friday evening, before some differences begin to show up. Even then, they remain in fairly decent agreement aloft with the overall theme of the synoptic features. The main differences lie with regard to where the center of a very deep mid-level low sets up. This occurs as high amplitude negatively tilted ridging develops from the tip of the Alaska Peninsula to the Pribilof islands. A disturbance riding the top of the ridge dives into southcentral or southwest Alaska, allowing for a 490-492 dm low to develop, as very cold air dives south.
Initially, all models agree on this developing just south of Seward. As the pattern amplifies due to shortwave energy diving into the base of the trough on Monday, the low repositions to either Shelikof Straight (European), central Bristol Bay (GFS), or north of King Salmon (Canadian Global). This dictates who gets the coldest of the air as 850 mb temps are projected to be around -26 deg. C. These are similar values, with a similar setup, to what was seen across southwest Alaska around New Year's Eve, when wind chills pushed or exceeded -40 deg. F. This is also a pattern where several rounds of cyclogenesis (low pressure development) would occur in the Gulf of Alaska, probably just south of Prince William Sound. Should this occur, snowfall potential would increase for Southcentral.
AVIATION.
PANC
.
Stratus clouds seen on satellite imagery, likely around 1500 feet, continues around the airfield and the big question is how long it will linger. At this time it looks like these ceilings will vary between 1500 and 3500 ft into tomorrow with periods of light snow.
SHORT TERM FORECAST SOUTHCENTRAL ALASKA (Days 1 and 2).
A negatively tilted upper level trough will slowly adjust eastward across southcentral. There are a number of embedded shortwaves in this feature. The upper trough itself extends from NE Russia to south of the Alaska Range and will be the impetus for ushering Arctic or modified Arctic air into the region. Upward vertical motion associated with the shortwaves could trigger snow showers. But with the Arctic air settling southward anticipate increasing offshore winds and usher in a drier air mass. While a few snow showers could still linger over portions of the Copper River basin and along the coast from Prince William Sound eastward later in the forecast period.
.SHORT TERM FORECAST SOUTHWEST ALASKA (Days 1 through 3:Tuesday night through Friday)
.
Snow showers, low stratus and patchy fog are lingering along the southwest coast today in association with a weak low pressure system currently over Nunivak Island. This low will move ashore tonight, clearing out snow showers. However some low clouds and patchy fog will remain overnight into tomorrow morning along the coast. Interior areas are still seeing calm weather and cold temperatures in valleys; this is expected to continue.
A change in the pattern is expected, returning to very cold air later this week. An area of high pressure is expected to set up over Interior AK Wednesday into Thursday. This will create brisk northeasterly flow over Southwest AK, bringing in very cold air. Winds and temperatures with this flow have potential to create wind chill advisories for southwest AK on Friday.
.SHORT TERM FORECAST BERING SEA/ALEUTIANS (Days 1 through 3: Tuesday night through Friday)
.
High pressure currently exists over the Bering Sea, with some low-level stratocumulus trapped under it. This high will slowly move east over the next couple of days, allowing a gale-force low to move into the Western Aleutians late tomorrow into Thursday. High pressure over mainland Alaska will push very cold, northeasterly flow into the Eastern Bering starting Thursday. This will prevent the low from moving eastward, effectively stalling it as it encounters this wall of cold air. However, the low maintains is strength so expect gale-force winds to continue for the Western and Central Bering through Friday. Meanwhile, cold air and heavy freezing spray will be in place for the eastern Bering starting Thursday.
MARINE (Days 3 through 5: Friday through Sunday).
Gulf of Alaska:
Weak low pressure will persist over the Gulf of Alaska Friday through Tuesday. Strong high pressure over the mainland coupled with the low pressure in the Gulf will produce strong outflow winds, especially out of the Copper River Delta and out of Kamishak Bay through the Barren Islands that should produce gale force wind Friday and Saturday.
Bering Sea and Aleutians:
A strong and nearly stationary low centered south of the western Aleutians will keep widespread gales with occasional embedded storms ongoing across the central and western Bering Friday. The Gales will likely be over the western bering Sea Saturday and Sunday. Seas of 20 to 35 ft are expected over a large area of the central and western Bering and Aleutians Friday. Strengthening high pressure over the eastern Bering may cause near gale force wind out of the Kuskokwim Delta Friday night through Sunday. Offshore gale force wind is also possible in the Bristol Bay area Friday through Sunday.
LONG TERM FORECAST (Days 3 through 7: Friday through Tuesday).
The big picture will be low pressure persisting over the Gulf of Alaska and south of the Aleutians with strong high pressure over the eastern Bering Sea and deep cold air over the mainland. For the mainland this translates to temperatures running around 20 degrees below average through the weekend. This setup favors the outflow gap winds through the coastal mountains with precipitation mainly along the coastal regions of the Gulf. Models are in good agreement with the synoptic features through Sunday then diverge with respect to the low pressure center location south of the western Aleutians beginning Sunday night. However, the impact of these differences is minor, and limited to the western Aleutians. Where the lows end up will decide whether gales occur over the western Aleutians or not.
AFC WATCHES/WARNINGS/ADVISORIES.
PUBLIC
.
NONE. MARINE
.
Gale 173-178 Heavy Freezing Spray Warning 129 130 160 FIRE WEATHER
.
NONE.
SYNOPSIS AND MODEL DISCUSSION
.
JW SOUTHCENTRAL ALASKA
.
PJS SOUTHWEST ALASKA/BERING SEA/ALEUTIANS
.
BB MARINE/LONG TERM
.
SA
---
Weather Reporting Stations
EDIT
(on/off)
&nbsp
Help
NOTE:
Click on distance to see the station location on a map
---
Airport Reports
EDIT
(on/off)
&nbsp
Help
Click EDIT to display multiple airports. Follow links for more data.
Link to 5 minute data for PAKN

Wind History from AKN
(wind in knots)
11
PM
12
AM
1
AM
2
AM
3
AM
4
AM
5
AM
6
AM
7
AM
8
AM
9
AM
10
AM
11
AM
12
PM
1
PM
2
PM
3
PM
4
PM
5
PM
6
PM
7
PM
8
PM
9
PM
10
PM
Last 24hr
N3
W4
Calm
Calm
S3
Calm
Calm
Calm
Calm
Calm
Calm
Calm
NE3
Calm
Calm
Calm
Calm
S3
Calm
S3
S5
S3
Calm
Calm
1 day ago
N7
N6
N7
N7
N8
N5
NW5
N6
N6
N4
N3
W3
NW5
N6
N4
N3
N4
N5
N5
N6
N5
N6
N5
N3
2 days ago
N3
NE3
N3
NW3
N3
N6
N3
N5
N5
N5
N5
N4
N3
N5
N4
N3
N3
N4
N6
NW5
N4
N6
N4
N8
---
Tide / Current Tables for Kvichak, Kvichak River, Alaska
EDIT
Weekend mode (on/off)
(on/off)
&nbsp
Help
One Week of Data
Kvichak
Click for Map
Wed -- 12:47 AM AKST 14.26 feet High Tide
Wed -- 08:54 AM AKST Moonrise
Wed -- 09:41 AM AKST -1.16 feet Low Tide
Wed -- 09:56 AM AKST Sunrise
Wed -- 02:25 PM AKST 17.60 feet High Tide
Wed -- 03:02 PM AKST Moonset
Wed -- 05:22 PM AKST Sunset
Wed -- 10:37 PM AKST 2.26 feet Low Tide
Tide / Current data from XTide NOT FOR NAVIGATION
12
am
1
am
2
am
3
am
4
am
5
am
6
am
7
am
8
am
9
am
10
am
11
am
12
pm
1
pm
2
pm
3
pm
4
pm
5
pm
6
pm
7
pm
8
pm
9
pm
10
pm
11
pm
12.5
14.2
13.6
12.2
10.2
7.8
5.2
2.6
0.5
-0.9
-0.9
2.6
8.4
14
17.3
17.4
16.3
14.4
11.8
8.9
6.1
3.8
2.5
2.8
---
Tide / Current Tables for Levelock, Kvichak River, Alaska
EDIT
(on/off)
&nbsp
Help
One Week of Data
Levelock
Click for Map
Wed -- 01:39 AM AKST 8.42 feet High Tide
Wed -- 08:55 AM AKST Moonrise
Wed -- 09:57 AM AKST Sunrise
Wed -- 11:26 AM AKST -0.64 feet Low Tide
Wed -- 03:00 PM AKST Moonset
Wed -- 03:17 PM AKST 10.39 feet High Tide
Wed -- 05:21 PM AKST Sunset
Tide / Current data from XTide NOT FOR NAVIGATION
12
am
1
am
2
am
3
am
4
am
5
am
6
am
7
am
8
am
9
am
10
am
11
am
12
pm
1
pm
2
pm
3
pm
4
pm
5
pm
6
pm
7
pm
8
pm
9
pm
10
pm
11
pm
2.6
7.1
8.4
8
7.3
6.3
5
3.6
2.2
0.9
-0.1
-0.6
0
3.6
7.8
10.3
10.3
9.6
8.6
7.3
5.8
4.2
2.8
1.8
---
Weather Map
(on/off)
&nbsp
Help
Weather Map
---
GEOS Local Image of Alaska
EDIT
NOTE:
East coast views moved to GEOS-16. They are experimental and not well supported by NOAA so they may not be correct so be warned. This change required redoing a large amount of the GOES code. If the image you are expecting is not showing, please let me know. You may need to use the EDIT function to update your location.
Link to Loop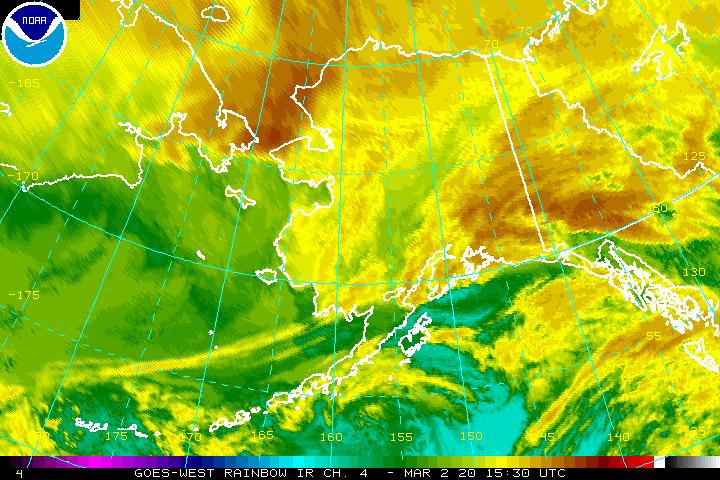 Other links:
Northern Pacific
Contential US
Full GOES-East
---
(on/off)
&nbsp
Help

Ad by Google

---
Cookie Policy:
This website uses cookies to save your settings. No personal information is saved. I do not collect statistics on your visit. You can disable cookies in your browser if you like but it is not recommended for this site. I do not sell cookies. Go to a bakery for that. In fact I do not sell anything. To disable cookies from L-36.com, please refer to the Help button in your browser.
Privacy Policy:
I do not sell or share any user data or anything else for that matter. The only personal information I save is in the site log which has a line for each page view which includes the IP address your browser sends in the header as well as which page you requested. I use this to block hackers and other bad actors. I do not use this raw data to create profiles on users. I periodically delete the log files. If you are subject to CCPA, Google ads on this site will not be based on your past behavior so you will likely not see an ad for a lawn mower just because you looked for one at a big box website. I do not believe this site is subject to CCPA but I am doing what I can to follow the guidelines anyway.
Disclaimer:
The information on this web site has not been checked for accuracy. It is for entertainment purposes only and should be independently verified before using for any other reason. There are five sources. 1) Documents and manuals from a variety of sources. These have not been checked for accuracy and in many cases have not even been read by anyone associated with L-36.com. I have no idea of they are useful or accurate, I leave that to the reader. 2) Articles others have written and submitted. If you have questions on these, please contact the author. 3) Articles that represent my personal opinions. These are intended to promote thought and for entertainment. These are not intended to be fact, they are my opinions. 4) Small programs that generate result presented on a web page. Like any computer program, these may and in some cases do have errors. Almost all of these also make simplifying assumptions so they are not totally accurate even if there are no errors. Please verify all results. 5) Weather information is from numerous of sources and is presented automatically. It is not checked for accuracy either by anyone at L-36.com or by the source which is typically the US Government. See the NOAA web site for their disclaimer. Finally, tide and current data on this site is from 2007 and 2008 data bases, which may contain even older data. Changes in harbors due to building or dredging change tides and currents and for that reason many of the locations presented are no longer supported by newer data bases. For example, there is very little tidal current data in newer data bases so current data is likely wrong to some extent. This data is NOT FOR NAVIGATION. See the XTide disclaimer for details. In addition, tide and current are influenced by storms, river flow, and other factors beyond the ability of any predictive program.