Marine Weather and Tides
Adak, AK

Version 3.4
NOTICE
8/26/2020 The 7 day forecast is taking about 5 seconds to load but it will eventually load. NOAA is still working on it.
8/18/2020 NOAA continues to have trouble. Wind guest will occasionally be left off graphs. I am working with NOAA to resolve the issue.
12/16/2019 NOAA is having trouble with requests that include wind gusts. I am posting graphs without wind gusts until it gets fixed.
10/9/2019 Updated the Marine Zones.
9/4/2019 Fixed the weather maps due to NOAA moving them.
7/25/2019 New feature in the Airports section gives a link to 5 minute updates for data reports.

---
| | | | | | | |
| --- | --- | --- | --- | --- | --- | --- |
| Sunrise 9:22AM | Sunset 6:04PM | Friday October 30, 2020 8:19 AM AKDT (16:19 UTC) | Moonrise 5:31PM | Moonset 6:34AM | Illumination 99% | |
NOTE: Some of the data on this page has not been verified and should be used with that in mind. It may and occasionally will, be wrong. The tide reports are by xtide and are NOT FOR NAVIGATION.
---
PKZ175 SEguam Island To Adak Bering Side- 341 Am Akdt Fri Oct 30 2020
.gale warning through tonight...
Today..N wind 45 kt. Seas 26 ft. Rain.
Tonight..N wind 40 kt diminishing to 30 kt after midnight. Seas 23 ft.
Sat..NE wind 25 kt. Seas 17 ft.
Sat night..E wind 25 kt. Seas 12 ft.
Sun..NE wind 30 kt. Seas 12 ft.
Mon..N wind 25 kt. Seas 10 ft.
Tue..W wind 25 kt. Seas 7 ft.
---
7 Day Forecast for Marine Location Near Adak, AK
Hourly
EDIT
Help
---
&nbsp
(on/off)
&nbsp
Help
NOTE: mouseover dotted underlined text for definition
FXAK68 PAFC 301330 AFDAFC
Southcentral and Southwest Alaska Forecast Discussion National Weather Service Anchorage AK 530 AM AKDT Fri Oct 30 2020
ANALYSIS AND UPPER LEVELS.
The pattern aloft features a shortwave trough moving through central portions of Alaska, and a broad upper low over the Aleutians. Our next weather maker, an upper trough pushing through the Chukchi Sea, can been seen approaching Northern Alaska.
At the surface, a strong occluded low is centered just south of the Aleutian Chain, bringing widespread gale and storm force winds and widespread rains to the central and eastern Aleutians and the Alaska Peninsula.
A weak low over the northern Gulf has begun to move interior this morning, and combined with the approaching shortwave is helping to bring continued scattered snow showers to the Copper River Basin.
For Southcentral Alaska, northerly flow has begun to increase which has kept conditions less foggy than we have seen over the past couple of nights. Across the southwest, offshore flow has started to increase as cold advection works in behind the departing shortwave.
MODEL DISCUSSION.
Models are in good agreement with respect to the newly forming triple point low (from the occlusion of the Aleutian low) southeast of Kodiak Island. The southerly trends in the models appear to have come to an end, and the impacts from this system will primarily be for Kodiak and marine areas of the Gulf, as this low then looks to track towards the Alaska Panhandle and avoid the Northern Gulf Coast.
Models are also generally strong agreement on the progression of the current shortwave moving through central Alaska, as well as a quickly following shortwave just now pushing into Northern Alaska, which will serve to re- enforce the cold airmass across much of the region this weekend, and aid in enhancing gap/coastal winds. This model agreement helps to bolster confidence in the notably cold/windy forecast ahead.
AVIATION.
PANC
.
VFR conditions and light winds will persist. Some occasional lower ceilings are possible early this morning but then good confidence on fairly rapid clearing after sunrise, with increasing northerly flow/cold advection.
SHORT TERM FORECAST SOUTHCENTRAL ALASKA (Days 1 through 3.
Friday through Sunday)
.
We will continue to dig deeper and deeper into our cold and mostly dry pattern over the coming days. The biggest story remains the upcoming gusty winds, especially in the gaps along the coast. First, for this morning, a shortwave trough is clipping through the area from the north. This feature has produced just enough lift and tapped into enough moisture to produce some light snow overnight across parts of the Copper River Basin. Some very light snow is also moving through Palmer and Wasilla, so motorists should use caution on their morning commute. A few flurries even made it into Anchorage. Snow will taper off quickly for all locations except the Copper River Basin. The shortwave will linger through that area and accumulations could approach an inch by later today.
A weak frontal system is moving through the Southern Gulf of AK and will track along Kodiak Island. This feature will divide the island into two regimes with the north side featuring cold with some snow showers while the south side sees much warmer with moderate rain. Kodiak City will be right on the border between the two. It looks like right now there will be enough onshore flow off the water to warm temperatures and cause a rain/snow mix (vs all snow). This should significantly limit accumulations at sea level. However, at higher elevations, several inches of accumulation will remain possible.
All attention then shifts towards an Arctic Airmass dropping in from the north late Sat into Sun. This will be the coldest airmass without question since last winter. 850 mb (5,000') temperatures will approach -20 Celsius Sun and drop further to -25C by Mon. The cold air will abut the (still) very warm air over the marine waters leading to an impressive thermal gradient. A potent upper level low will accompany this airmass and will aid in the development of very strong outflow winds in some locales. At this time, the most likely locations to experience these gusty conditions look to be the Matanuska Valley, Thompson Pass down into Valdez, Whittier, and Seward. We will keep a close eye on the details of this system in the coming days and weigh the potential for a High Wind Watch (75 mph or greater). Due to the depth of the cold air, there will also be the shot of some passing snow showers as it moves into Southcentral. However, the airmass will be quite dry, so these would be confined primarily to the mountains.
.SHORT TERM FORECAST SOUTHWEST ALASKA (Days 1 through 3: Friday through Sunday)
.
At the onset of the forecast period, expect widespread northerly flow. There is an arctic low north of the Brooks Range that will dive southward today and tomorrow. There is not a lot of moisture with this polar system but flurries are possible. The biggest impact will be the intrusion of arctic air with some locations dipping below 0 degree Fahrenheit and the chances of afternoon temperatures getting above freezing is slim. Light freezing spray is possible for portions of the Kuskokwim Bay and Bristol Bay.
.SHORT TERM FORECAST BERING SEA/ALEUTIANS (Days 1 through 3: Friday through Sunday)
.
There is a North Pacific cyclone south of the Aleutians and the surface low is 973mb. The pressure gradient with system spans from Attu Island to Pilot Point. Early this morning ASCAT (Advanced Scatterometer) data pinged into gale and storm force winds. This low will move south-eastward taking the worst of the winds into the high seas on Saturday. However, another low will with a magnitude of 990mb will move towards Shemya. Expect a lull in the winds and then it will get progressively gusty late Sat and Sunday. This surface low also has a surface track south of the chain.
MARINE (Days 3 through 5) Sunday through Tuesday.
Widespread easterly small craft winds and waves extend from the Alaska Peninsula along the Aleutians, with local gale force winds over the Western Aleutians. While track and development of the system are mixed, the winds diminish and drift into the North Pacific through Tue. An upper level disturbance brings northerly small craft winds over the Eastern Bering and Bristol Bay for Mon and Tue, with gustier winds near capes and channeled terrain.
For the Gulf, a weakening low over the Northern Gulf lingers through Tue. Though the track and development vary between models, northerly small craft increase to gale force Mon around Kodiak Island, and become westerly extending into the Northern Gulf, diminishing Tue. A second axis of small craft with local gale force winds off the Alaska Peninsula spread over the Southern Gulf for Tue.
LONG TERM FORECAST (Days 4 through 7).
The main weather story moving through the weekend and into next week will be the intrusion of arctic air across the Southern Mainland in the wake of a vigorous surface low moving from the western Gulf to the Alaska Panhandle. The core of the coldest air looks to arrive on Monday as the polar upper-level low settles over Southcentral. 850 mb temperatures (~4500ft AGL) look to plummet to -18 to -20C across interior Southwest and over the Anchorage Bowl and Kenai Peninsula. The Copper River Basin could see 850 mb temperatures fall to -22 to -25C. This would translate to highs struggling to climb into the teens to lower 20s for most locations not immediately along the northern Gulf coast by early next week. Daytime highs for parts of the Copper River Basin during this time could remain near zero. Needless to say, low temperatures would likely be in the single digits for most areas and well below zero for the Copper River Basin and normally colder locations like sheltered valleys.
Gusty outflow winds will also remain a potential along the immediate coast through next week due to the build up of colder air inland and a lingering gradient between an interior ridge and trough along the coast. Models, however, are indicating that one or more compact, meso-lows could spin up at the surface over the northern Gulf due to the interaction of the upper-level dynamics and the increased surface winds and thermal gradient. If this does happen, there could be additional cloud cover that could help moderate temperatures nearer the coast and also bring about an increased chance for snow showers through early next week.
Farther to the west, a ridge of high pressure will build over the western Aleutians and expand east by next week. Multiple shortwaves diving south between the ridge and the aforementioned polar low to the east will allow for clouds, snow showers, and gusty northerly winds to persist from the central Bering to the Southwest Alaska coast.
AFC WATCHES/WARNINGS/ADVISORIES.
PUBLIC
.
NONE. MARINE
.
Storm Warning: 170 173 174. Gale Warning: 132 138 150 160 165 171 172 175-180. FIRE WEATHER
.
NONE.
SYNOPSIS AND MODEL DISCUSSION
.
BG SOUTHCENTRAL ALASKA
.
MSO SOUTHWEST ALASKA/BERING SEA/ALEUTIANS
.
PJS MARINE/LONG TERM
.
MTL
---
Weather Reporting Stations
EDIT
(on/off)
&nbsp
Help
NOTE:
Click on distance to see the station location on a map
(wind in knots)
EDIT
(on/off)
&nbsp
Help
8
AM
9
AM
10
AM
11
AM
12
PM
1
PM
2
PM
3
PM
-12
PM
5
PM
6
PM
7
PM
8
PM
9
PM
10
PM
11
PM
12
AM
1
AM
2
AM
3
AM
4
AM
5
AM
6
AM
7
AM
Last
24hr
NE33
G42

NE33
G43

NE37

NE26
G36

NE23
G33

NE20
G27

NE28
G39

NE21
G36

NE22
G30

NE24
G33

N21
G31

N19
G24

N15
G24

N16
G24

N21
G31

N22
G30

N21
G27

NE21
G35

NE27
G38

NE21
G34

NE26
G39

N25
G34

N20
G29

1 day
ago
N1
G4

S3

W6
G9

W3

W5

--

W2

E4

E6

E5

E5

E4

E5

E8
G11

E11

E17

E19
G24

E18
G22

E20
G25

E27

E20
G27

E29
G37

E34
G42

NE32
G40

2 days
ago
W14

W11
G15

W16

W9

W6

SW10

SW10

SW9

SW12

SW9
G12

S9

SW13

W11

W11

W6

---
Airport Reports
EDIT
(on/off)
&nbsp
Help
Click EDIT to display multiple airports. Follow links for more data.
Link to 5 minute data for PADK

Wind History from ADK
(wind in knots)
8
AM
9
AM
10
AM
11
AM
12
PM
1
PM
2
PM
3
PM
4
PM
5
PM
6
PM
7
PM
8
PM
9
PM
10
PM
11
PM
12
AM
1
AM
2
AM
3
AM
4
AM
5
AM
6
AM
7
AM
Last 24hr
NE27
G36
NE23
G33
NE19
NE24
G31
NE30
G35
NE26
G38
NE28
G34
NE26
G34
NE25
G34
NE27
G34
N23
G38
--
N21
G33
N22
G27
N22
G27
N21
G29
N24
G34
N26
G30
N24
G39
N30
G40
N28
G37
N26
G35
N27
G35
N24
G38
1 day ago
SW3
Calm
W4
SW5
SW4
--
S3
E4
E6
E6
E6
SE5
Calm
E8
E11
E16
E16
E16
E22
G28
E23
G31
E26
G32
E32
G38
E31
G41
E30
G35
2 days ago
Calm
W6
SW4
W8
W11
W11
W6
W10
W10
W9
W7
W5
W4
W5
W3
SW5
SW5
Calm
SW7
SW5
W11
W9
W10
W7
---
Tide / Current Tables for Finger Bay, Kuluk Bay, Adak Island, Alaska
EDIT
Weekend mode (on/off)
(on/off)
&nbsp
Help
One Week of Data
Finger Bay
Click for Map
Fri -- 08:07 AM HDT 2.68 feet High Tide
Fri -- 08:34 AM HDT Moonset
Fri -- 09:38 AM HDT Sunrise
Fri -- 10:19 AM HDT 2.65 feet Low Tide
Fri -- 04:10 PM HDT 3.13 feet High Tide
Fri -- 07:20 PM HDT Sunset
Fri -- 07:30 PM HDT Moonrise
Tide / Current data from XTide NOT FOR NAVIGATION
12
am
1
am
2
am
3
am
4
am
5
am
6
am
7
am
8
am
9
am
10
am
11
am
12
pm
1
pm
2
pm
3
pm
4
pm
5
pm
6
pm
7
pm
8
pm
9
pm
10
pm
11
pm
1.4
1.4
1.6
1.9
2.2
2.4
2.6
2.7
2.7
2.7
2.7
2.7
2.7
2.8
3
3.1
3.1
3.1
2.9
2.6
2.3
1.8
1.4
1.2
---
Tide / Current Tables for Clam Lagoon, Kuluk Bay, Adak Island, Alaska
EDIT
(on/off)
&nbsp
Help
One Week of Data
Clam Lagoon
Click for Map
Fri -- 02:04 AM HDT 1.06 feet Low Tide
Fri -- 08:34 AM HDT Moonset
Fri -- 09:21 AM HDT 2.09 feet High Tide
Fri -- 09:39 AM HDT Sunrise
Fri -- 12:31 PM HDT 2.07 feet Low Tide
Fri -- 05:24 PM HDT 2.44 feet High Tide
Fri -- 07:20 PM HDT Sunset
Fri -- 07:29 PM HDT Moonrise
Tide / Current data from XTide NOT FOR NAVIGATION
12
am
1
am
2
am
3
am
4
am
5
am
6
am
7
am
8
am
9
am
10
am
11
am
12
pm
1
pm
2
pm
3
pm
4
pm
5
pm
6
pm
7
pm
8
pm
9
pm
10
pm
11
pm
1.2
1.1
1.1
1.1
1.3
1.5
1.7
1.9
2
2.1
2.1
2.1
2.1
2.1
2.1
2.2
2.4
2.4
2.4
2.3
2.2
1.9
1.7
1.4
---
Weather Map
(on/off)
&nbsp
Help
Weather Map
---
GEOS Local Image of Alaska
EDIT
NOTE:
East coast views moved to GEOS-16. They are experimental and not well supported by NOAA so they may not be correct so be warned. This change required redoing a large amount of the GOES code. If the image you are expecting is not showing, please let me know. You may need to use the EDIT function to update your location.
Link to Loop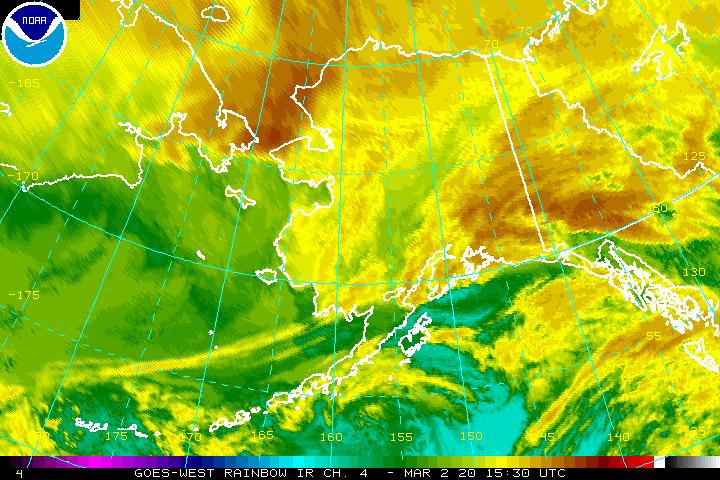 Other links:
Northern Pacific
Contential US
Full GOES-East
---
(on/off)
&nbsp
Help
---
Cookie Policy:
This website uses cookies to save your settings. No personal information is saved. I do not collect statistics on your visit. You can disable cookies in your browser if you like but it is not recommended for this site. I do not sell cookies. Go to a bakery for that. In fact I do not sell anything. To disable cookies from L-36.com, please refer to the Help button in your browser.
Privacy Policy:
I do not sell or share any user data or anything else for that matter. The only personal information I save is in the site log which has a line for each page view which includes the IP address your browser sends in the header as well as which page you requested. I use this to block hackers and other bad actors. I do not use this raw data to create profiles on users. I periodically delete the log files. Google supplies the ads on this site. Because I do not track who you are, I cannot customize how these ads are served. They may be personalized to improve the ad experience. If you do not want personalized ads, please adjust the settings on the Google site HERE. NOTE: The best I can determine, this site is not subject to CCPA but I am doing my best to comply anyway.
Disclaimer:
The information on this web site has not been checked for accuracy. It is for entertainment purposes only and should be independently verified before using for any other reason. There are five sources. 1) Documents and manuals from a variety of sources. These have not been checked for accuracy and in many cases have not even been read by anyone associated with L-36.com. I have no idea of they are useful or accurate, I leave that to the reader. 2) Articles others have written and submitted. If you have questions on these, please contact the author. 3) Articles that represent my personal opinions. These are intended to promote thought and for entertainment. These are not intended to be fact, they are my opinions. 4) Small programs that generate result presented on a web page. Like any computer program, these may and in some cases do have errors. Almost all of these also make simplifying assumptions so they are not totally accurate even if there are no errors. Please verify all results. 5) Weather information is from numerous of sources and is presented automatically. It is not checked for accuracy either by anyone at L-36.com or by the source which is typically the US Government. See the NOAA web site for their disclaimer. Finally, tide and current data on this site is from 2007 and 2008 data bases, which may contain even older data. Changes in harbors due to building or dredging change tides and currents and for that reason many of the locations presented are no longer supported by newer data bases. For example, there is very little tidal current data in newer data bases so current data is likely wrong to some extent. This data is NOT FOR NAVIGATION. See the XTide disclaimer for details. In addition, tide and current are influenced by storms, river flow, and other factors beyond the ability of any predictive program.