Marine Weather and Tides
Ugashik, AK

Version 3.4
NOTICE
8/26/2020 The 7 day forecast is taking about 5 seconds to load but it will eventually load. NOAA is still working on it.
8/18/2020 NOAA continues to have trouble. Wind guest will occasionally be left off graphs. I am working with NOAA to resolve the issue.
12/16/2019 NOAA is having trouble with requests that include wind gusts. I am posting graphs without wind gusts until it gets fixed.
10/9/2019 Updated the Marine Zones.
9/4/2019 Fixed the weather maps due to NOAA moving them.
7/25/2019 New feature in the Airports section gives a link to 5 minute updates for data reports.

---
| | | | | | | |
| --- | --- | --- | --- | --- | --- | --- |
| Sunrise 9:35AM | Sunset 3:59PM | Friday November 27, 2020 7:58 PM AKST (04:58 UTC) | Moonrise 3:16PM | Moonset 5:18AM | Illumination 95% | |
NOTE: Some of the data on this page has not been verified and should be used with that in mind. It may and occasionally will, be wrong. The tide reports are by xtide and are NOT FOR NAVIGATION.
---
---
7 Day Forecast for Marine Location Near Ugashik, AK
Hourly
EDIT
Help
---
&nbsp
(on/off)
&nbsp
Help
NOTE: mouseover dotted underlined text for definition
FXAK68 PAFC 280150 AFDAFC
Southcentral and Southwest Alaska Forecast Discussion National Weather Service Anchorage AK 450 PM AKST Fri Nov 27 2020
ANALYSIS AND UPPER LEVELS.
Quite a busy weather day for our forecast area. Three surface low pressure systems exist, two of which are weather producers for us today. First, a surface low just south of Prince William Sound has been creating impactful weather for Southcentral AK. A deformation band with this low has produced heavy snow for the Western Susitna Valley and another band of moisture along coastal Southcentral is producing heavy snow through Turnagain Pass and snowfall in Turnagain Arm and Anchorage Bowl. The second low is a strong low in currently in the Eastern Aleutians, with Hurricane Force wind gusts wrapping around the backside of the low. A front from this low is currently entering the Western Gulf of Alaska as well. The third low is in the Western Bering and not yet impactful. The three are making for some very interesting satellite shots.
All of this active weather is supported in the upper levels by a complex longwave trough that encompasses most of our forecast area. Several upper low centers are spinning within this trough, three of which are associated with the aforementioned surface lows. This trough extends all the was from Eastern Siberia to Central Alaska. Induced shortwave ridging is developing between the low in the Gulf of Alaska and the low in the Eastern Aleutians, which is the only bit of ridging that can be seen in our forecast area.
MODEL DISCUSSION.
On the synoptic scale, models are performing well and in good agreement. They are capturing the overall weather pattern. When we focus in on the mesoscale, disagreement and performance issues emerge with our major models. This is mainly the case for Southcentral AK. They have had difficulty depicting the current round of snowfall in Southcentral AK and are having trouble resolving the next frontal system slated to move into the Gulf of Alaska tonight. This has made for difficulty in forecasting the finer details, dropping our confidence level for the next couple of days, specifically along coastal areas. In the western part of our forecast area, models are performing better and we have higher confidence in the forecast.
AVIATION.
PANC
.
A heavier band of snow moved through this morning reducing the airfield to IFR conditions. The heaviest snow has moved through and MVFR conditions can be expected with light snow showers into the evening. Winds should stay light and variable.
.SHORT TERM FORECAST SOUTHCENTRAL ALASKA (Days 1 through 3: Tonight through Sunday)
.
The amount of snow will vary across from Kenai Peninsula through Prince William Sound to Anchorage this evening, thanks to remaining remnants over the Gulf that are still making their way inland which will bring additional snowfall tonight.
More mixed snow and rain are heading our way as a result of the next storm from the Bering Sea. The leading edge of the frontal system from the storm has already reached Kodiak this afternoon, and this system will race northward toward Kenai Peninsula and Prince William Sound through Saturday morning. Along the axis of the frontal boundary, a couple other lows will emerge from it and may keep snowy conditions near Anchorage Bowl through the weekend. For now, the models suggest at least two separate microscale lows with the first one emerging near Kodiak on Saturday morning and the other over Cook Inlet on Sunday afternoon. It should not come as a surprise should the areal coverage for snow increases through Monday. Although strong winds from the frontal boundary will reach much of Prince William Sound by Saturday morning, but these strong winds are expected to be short-lived.
Patchy fog was observed around the Anchorage Bowl this afternoon, and this situation will continue through late tonight. Freezing spray is also expected in the next couple days mainly over the Cook Inlet and Kamishak Bay. The combination of moderate to strong winds and cold temperatures are favorable ingredients for freezing spray.
SHORT TERM FORECAST SOUTHWEST ALASKA (Days 1 through 3).
The cold weather pattern continues across Southwest Alaska this afternoon, with a few lingering snow showers over interior Bristol Bay. Cloud cover and the chance for precipitation will increase this evening for the mainland as a frontal system lifts northward overnight into Saturday morning. This system has stayed all rain earlier today for the Alaska Peninsula, which will transition to snow or a mix of rain and snow as temperatures cool overnight.
The potential for blowing snow across Bristol Bay from Dillingham to Koliganek is the main focus for this forecast package. As the front lifts northward, strong winds and gusts are possible, as well as a few inches of snowfall. Blowing snow is a concern with these conditions, which could lower visibility to a half mile at times. Thus, a Winter Weather Advisory for blowing snow has been issued through Friday morning for these areas.
The Kuskokwim Delta and Valley should stay relatively dry through Friday, when a chance of snow returns to the Kuskokwim Valley. Temperatures across the region will continue to fall through the weekend as northerly flow allows cold air advection to move into the area.
SHORT TERM FORECAST BERING SEA/ALEUTIANS (Days 1 through 3).
High winds across the central Aleutians will continue through the evening hours as a storm force low positioned just north of Dutch Harbor tracks over the Alaska Peninsula and back into the North Pacific by Saturday morning. A High Wind Warning remains in effect through this evening for the eastern Aleutians, including Nikolski, which has already seen warning level gusts of 80 mph.
A second storm force low over the western Bering this afternoon will continue to weaken overnight as it dives south crossing the central Aleutians Saturday afternoon and into the North Pacific through the evening hours. Widespread precipitation will accompany the two aforementioned systems, diminishing through Sunday morning.
Another storm force system will move into the forecast area by Sunday morning, with the associated front tracking over the western Aleutians. This low will skirt the Aleutians, keeping the strongest core of winds and widespread precipitation for the Aleutian Chain as it tracks eastward towards the Alaska Peninsula for Monday.
MARINE (Days 3 through 5/Monday through Wednesday).
Gulf: A weak low lingers in the Northern Gulf through Monday afternoon before moving onshore and dissipating. On Tuesday, a series of shortwaves troughs move across the Gulf towards the North Gulf Coast as a second weakening low approaches Kodiak Island from the south. Winds will be primarily southeasterly on Monday, transitioning to southerly by Tuesday afternoon as the low moves north. Storm force winds may result as the front pushes the North Gulf Coast, with a barrier jet likely to set up late Monday night. Winds should begin to dissipate by Tuesday evening.
Bering: A strong North Pacific low pushes towards the western Gulf over the course of a few days. This results in widespread gales across the Southern Bering and possible storm force winds along the central/eastern Aleutian coasts Monday into Tuesday. On Tuesday the low is positioned further east and lingering gales and small craft winds will be confined to the Southwest coastal waters. Additionally, flow will be primarily northerly on Tuesday with colder air being advected along the coast, thus, freezing spray is likely, with heavy freezing spray possible along parts of the immediate coast. High pressure sets up over the Central Bering Tuesday afternoon.
LONG TERM FORECAST (Days 4 through 7/Tuesday through Friday).
A strong front pushes the Southcentral Coast late Monday night. With this, widespread precipitation is likely, with the heaviest along Western Prince William Sound and Eastern Kenai. Further inland, snow is likely through Wednesday morning before becoming a rain/snow mix in the lower elevation. Significant warm air follows this front, thus, precipitation along the coast should start as a snow or rain/snow mix Tuesday morning and transition to all rain by Tuesday afternoon. Rain will likely linger through Thursday as a second low pushes the coast from the Southern Gulf. Precipitation transitions back to snow by Friday with colder air behind the low.
AFC WATCHES/WARNINGS/ADVISORIES.
PUBLIC
.
NONE. MARINE
.
Storm Warning 119 172 174 177 178 411. Gale Warning 120 125 128 130 132 138 139 140 150 155 160 165 170 173 175 176 180 351 352 413 414 . Heavy Freezing Spray 180 181. FIRE WEATHER
.
NONE.
SYNOPSIS AND MODEL DISCUSSION
.
BB SOUTHCENTRAL ALASKA
.
CB SOUTHWEST ALASKA/BERING SEA/ALEUTIANS
.
AH MARINE/LONG TERM
.
KM
---
Weather Reporting Stations
EDIT
(on/off)
&nbsp
Help
NOTE:
Click on distance to see the station location on a map
---
Airport Reports
EDIT
(on/off)
&nbsp
Help
Click EDIT to display multiple airports. Follow links for more data.
Airport
Dist
Age
Wind kt
Visibility
Sky/Weather
Temp
DewPt
Humidity
Pressure
Link to 5 minute data for PAPN

Wind History from APN
(wind in knots)
1
AM
2
AM
3
AM
4
AM
5
AM
6
AM
7
AM
8
AM
9
AM
10
AM
11
AM
12
PM
1
PM
2
PM
3
PM
4
PM
5
PM
6
PM
7
PM
8
PM
9
PM
10
PM
11
PM
-12
PM
Last 24hr
--
--
--
--
--
--
--
--
--
--
--
--
--
--
--
--
--
--
--
--
--
--
--
--
1 day ago
--
--
--
--
--
--
--
--
--
--
--
--
--
--
--
--
--
--
--
--
--
--
--
--
2 days ago
--
--
--
--
--
--
--
--
--
--
--
--
--
--
--
--
--
--
--
--
--
--
--
--
---
Tide / Current Tables for Kanatak Lagoon, Portage Bay, Alaska
EDIT
Weekend mode (on/off)
(on/off)
&nbsp
Help
One Week of Data
Kanatak Lagoon
Click for Map
Fri -- 12:30 AM AKST 9.93 feet High Tide
Fri -- 06:18 AM AKST Moonset
Fri -- 06:28 AM AKST 2.67 feet Low Tide
Fri -- 09:34 AM AKST Sunrise
Fri -- 12:14 PM AKST 11.97 feet High Tide
Fri -- 04:15 PM AKST Moonrise
Fri -- 04:49 PM AKST Sunset
Fri -- 07:25 PM AKST 0.87 feet Low Tide
Tide / Current data from XTide NOT FOR NAVIGATION
12
am
1
am
2
am
3
am
4
am
5
am
6
am
7
am
8
am
9
am
10
am
11
am
12
pm
1
pm
2
pm
3
pm
4
pm
5
pm
6
pm
7
pm
8
pm
9
pm
10
pm
11
pm
9.8
9.8
8.9
7.3
5.4
3.7
2.8
2.8
4.1
6.3
8.9
10.9
11.9
11.7
10.5
8.5
6.1
3.7
1.9
1
1.1
2.6
5
7.5
---
Tide / Current Tables for Lees Cabins, Wide Bay, Alaska
EDIT
(on/off)
&nbsp
Help
One Week of Data
Lees Cabins
Click for Map
Fri -- 12:30 AM AKST 10.13 feet High Tide
Fri -- 06:09 AM AKST 2.57 feet Low Tide
Fri -- 06:18 AM AKST Moonset
Fri -- 09:35 AM AKST Sunrise
Fri -- 12:14 PM AKST 12.17 feet High Tide
Fri -- 04:16 PM AKST Moonrise
Fri -- 04:50 PM AKST Sunset
Fri -- 07:06 PM AKST 0.77 feet Low Tide
Tide / Current data from XTide NOT FOR NAVIGATION
12
am
1
am
2
am
3
am
4
am
5
am
6
am
7
am
8
am
9
am
10
am
11
am
12
pm
1
pm
2
pm
3
pm
4
pm
5
pm
6
pm
7
pm
8
pm
9
pm
10
pm
11
pm
10
10
9
7.1
5
3.3
2.6
3
4.4
6.7
9.2
11.2
12.1
11.9
10.6
8.3
5.7
3.2
1.4
0.8
1.3
3
5.4
7.9
---
Weather Map
(on/off)
&nbsp
Help
Weather Map
---
GEOS Local Image of Alaska
EDIT
NOTE:
East coast views moved to GEOS-16. They are experimental and not well supported by NOAA so they may not be correct so be warned. This change required redoing a large amount of the GOES code. If the image you are expecting is not showing, please let me know. You may need to use the EDIT function to update your location.
Link to Loop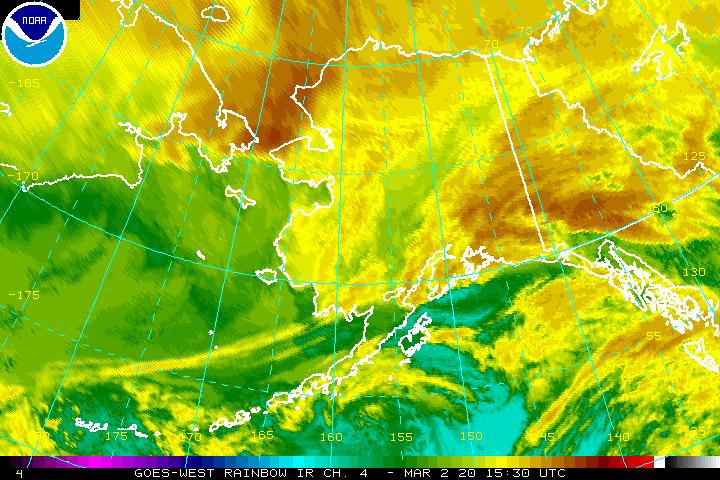 Other links:
Northern Pacific
Contential US
Full GOES-East
---
(on/off)
&nbsp
Help
---
Cookie Policy:
This website uses cookies to save your settings. No personal information is saved. I do not collect statistics on your visit. You can disable cookies in your browser if you like but it is not recommended for this site. I do not sell cookies. Go to a bakery for that. In fact I do not sell anything. To disable cookies from L-36.com, please refer to the Help button in your browser.
Privacy Policy:
I do not sell or share any user data or anything else for that matter. The only personal information I save is in the site log which has a line for each page view which includes the IP address your browser sends in the header as well as which page you requested. I use this to block hackers and other bad actors. I do not use this raw data to create profiles on users. I periodically delete the log files. Google supplies the ads on this site. Because I do not track who you are, I cannot customize how these ads are served. They may be personalized to improve the ad experience. If you do not want personalized ads, please adjust the settings on the Google site HERE. NOTE: The best I can determine, this site is not subject to CCPA but I am doing my best to comply anyway.
Disclaimer:
The information on this web site has not been checked for accuracy. It is for entertainment purposes only and should be independently verified before using for any other reason. There are five sources. 1) Documents and manuals from a variety of sources. These have not been checked for accuracy and in many cases have not even been read by anyone associated with L-36.com. I have no idea of they are useful or accurate, I leave that to the reader. 2) Articles others have written and submitted. If you have questions on these, please contact the author. 3) Articles that represent my personal opinions. These are intended to promote thought and for entertainment. These are not intended to be fact, they are my opinions. 4) Small programs that generate result presented on a web page. Like any computer program, these may and in some cases do have errors. Almost all of these also make simplifying assumptions so they are not totally accurate even if there are no errors. Please verify all results. 5) Weather information is from numerous of sources and is presented automatically. It is not checked for accuracy either by anyone at L-36.com or by the source which is typically the US Government. See the NOAA web site for their disclaimer. Finally, tide and current data on this site is from 2007 and 2008 data bases, which may contain even older data. Changes in harbors due to building or dredging change tides and currents and for that reason many of the locations presented are no longer supported by newer data bases. For example, there is very little tidal current data in newer data bases so current data is likely wrong to some extent. This data is NOT FOR NAVIGATION. See the XTide disclaimer for details. In addition, tide and current are influenced by storms, river flow, and other factors beyond the ability of any predictive program.