Marine Weather and Tides
Larsen Bay, AK

Version 3.4
NOTICE
8/26/2020 The 7 day forecast is taking about 5 seconds to load but it will eventually load. NOAA is still working on it.
8/18/2020 NOAA continues to have trouble. Wind guest will occasionally be left off graphs. I am working with NOAA to resolve the issue.
12/16/2019 NOAA is having trouble with requests that include wind gusts. I am posting graphs without wind gusts until it gets fixed.
10/9/2019 Updated the Marine Zones.
9/4/2019 Fixed the weather maps due to NOAA moving them.
7/25/2019 New feature in the Airports section gives a link to 5 minute updates for data reports.

---
| | | | | | | |
| --- | --- | --- | --- | --- | --- | --- |
| Sunrise 9:50AM | Sunset 4:28PM | Saturday January 16, 2021 12:05 AM AKST (09:05 UTC) | Moonrise 10:49AM | Moonset 8:46PM | Illumination 9% | |
NOTE: Some of the data on this page has not been verified and should be used with that in mind. It may and occasionally will, be wrong. The tide reports are by xtide and are NOT FOR NAVIGATION.
---
PKZ138 Shelikof Strait- 343 Pm Akst Fri Jan 15 2021
.gale warning through Saturday...
Tonight..NE wind 25 kt increasing to 45 kt after midnight. Seas 10 ft building to 22 ft after midnight. Rain and snow.
Sat..E wind 45 kt diminishing to 25 kt in the afternoon. Seas 20 ft subsiding to 6 ft in the afternoon. Rain.
Sat night..E wind 15 kt. Seas 5 ft subsiding to 3 ft after midnight. Rain.
Sun..SW wind 25 kt. Seas 9 ft.
Sun night..SE wind 25 kt. Seas 6 ft.
Mon..W wind 40 kt. Seas 11 ft.
Tue..S wind 30 kt. Seas 10 ft.
Wed..W wind 25 kt. Seas 8 ft.
---
7 Day Forecast for Marine Location Near Larsen Bay, AK
Hourly
EDIT
Help
---
&nbsp
(on/off)
&nbsp
Help
NOTE: mouseover dotted underlined text for definition
FXAK68 PAFC 160132 AFDAFC
Southcentral and Southwest Alaska Forecast Discussion National Weather Service Anchorage AK 432 PM AKST Fri Jan 15 2021
ANALYSIS AND UPPER LEVELS.
The long-wave trough remains firmly entrenched over Alaska and the North Pacific, with a zonal jet stream centered way down around 35N latitude. A persistent downstream ridge sits over the far east Pacific and into the western CONUS, leading to a northward buckle in the jet. Thus, the primary storm track is west to east across the North Pacific, then curving northward into the Gulf and toward the southern mainland of Alaska. This has been and will continue to be the pattern in place through at least early next week.
Conditions are relatively quiet across the Alaska region today. A broad short-wave trough with multiple embedded weak vorticity maxima is lifting northward across Southcentral, with areas of light snow spreading inland. It took a long time to saturate low level airmass in the Anchorage area, but light snow started to fall across the area by late morning. Still, snow is very light in nature and expect little to no accumulation. Meanwhile, with more unstable air over the Gulf, showers continue to stream onshore along the north Gulf coast and Prince William Sound. Precipitation type is mostly snow with the exception of the immediate coastline where it is still warm enough for rain.
Out west, a short-wave trough over the central Bering is bringing snow showers and gusty winds to the Pribilof Islands southward to the central Aleutians (around Atka). Otherwise, dry conditions prevail under short-wave ridging along the remainder of the Aleutians, Alaska Peninsula, and Southwest Alaska. Areas of low clouds and fog have formed over the eastern Bering Sea and some of this is pushing onshore in the Bristol Bay region.
MODEL DISCUSSION.
Models remain in overall good agreement with the next large storm system moving up from the north Pacific into the Gulf and along the Alaska Peninsula. It does look favorable for multiple low centers as short-waves rotate around the very large cyclonic circulation. Models do vary with the details of these centers. In particular, the GFS shows a stronger low backing westward across the Bristol Bay and into the eastern Bering Saturday night and Sunday. If this were to verify, it would lead to stronger northerly flow across the eastern Bering and southern Alaska Peninsula and lower visibilities in snow and blowing snow. However, this solution is an outlier at this point so will stick with the other models which show a weaker farther east low and overall lighter wind field.
Out west, models are in excellent agreement and show good run-to- run consistency with frontal system crossing the Aleutian Islands Sunday night into Monday.
Looking to early next week, models are all keying in on amplification of the upper level flow and a powerful low tracking into the Gulf. There certainly is some spread in solutions with timing and track, but confidence is enough to begin to reflect significant weather in the forecast and start to message specific impacts to key partners/decision-makers.
AVIATION.
PANC
.
VFR conditions and light winds will persist through this evening. With skies clearing behind the short-wave pushing onshore, will need to keep an eye out for fog formation. However, as the next Pacific storm enters the Gulf tonight, expect northerly surface winds to develop and strengthen through Saturday morning. This, if any fog did form in the vicinity it should be patchy and short-lived.
As the northerly flow strengthens at the surface, mountain-top southeasterly winds will increase across the Kenai and Chugach Mountains. Thus, expect low level wind shear to develop overnight. As the storm nears, cross-mountain flow will become more easterly and will bend sharply down Cook Inlet. As a result, wind shear may push above 2000 feet during the day Saturday.
.SHORT TERM FORECAST SOUTHCENTRAL ALASKA (Days 1 through 3/Tonight through Monday)
.
The upper level trough that brought some light snow to Southcentral today continues to lift north with a weak upper level ridge building in. As a result, most of the Kenai Peninsula has cleared out and has been observing a decent amount of sunshine. There is some question as to how far north this clearing will get tonight making tonight's low temperature forecast a bit tricky. If it can stay clear with light winds, temperatures will drop a decent amount. There is some low stratus hanging around out over Cook Inlet as of this writing that if this can congeal may move into Anchorage, Kenai, and the Matanuska Valley overnight which would keep temperatures up instead of dropping.
The next frontal system can be seen on visible satellite imagery this afternoon over the North Pacific. This system will continue moving northward reaching Kodiak around midnight tonight. Expect periods of rain and gusty winds up to 50 mph out of the northeast accompanying the front as it passes through. This front will continue to move northward bringing storm force winds to the central Gulf and along the Gulf Coast waters. This front will also bring another round of rain and snow to the higher elevations around Prince William Sound. Areas closer to sea level can expect more rain with some snow but the higher elevations will be where the heavier snowfall amounts will be as that will be where it stays cold enough to keep it mostly snow. Turnagain Pass is one of the areas that looks to remain cold enough again this time around for mostly snow with up to 6 inches through the Pass. Higher elevations around the Pass may see upwards of a foot or more. Seward will have some snow to start but warmer air is expected to move in Saturday afternoon changing any snow to all rain. Areas around Anchorage, Kenai Peninsula, and the Matanuska Valley are expected to remain dry through at least Saturday evening before chances of precipitation increase some. Any precipitation will be light and minor.
With deep southerly flow continuing Saturday night into Sunday expect precipitation to continue against the windward slopes of the mountains as upslope flow continues.
Attention will then turn to the next very potent system that is expected to impact the region Sunday night through Monday night time frame. During this period, there is the potential for high winds through Portage Valley and Turnagain Arm, high winds over the marine areas along the north Gulf Coast, heavy snowfall for Turnagain Pass, Alyeska, and Thompson Pass. Due to the heavy snowfall possible and high winds along with an already very deep snowpack, the potential is there for avalanches as more snow falls on the already deep snowpack. Due to this, multiple products are possible for this event as this has the potential to be very impactful across Southcentral. Stay tuned.
.SHORT TERM FORECAST SOUTHWEST ALASKA (Days 1 through 3: Friday Afternoon through Monday)
.
Relatively calm today across Southwest Alaska as the upper level trough pushes north and east of the area. A brief period of onshore flow tonight will promote the formation of low clouds and patchy fog, best chances of fog will be across the Kuskokwim Delta tonight. The fog will clear out by midday tomorrow as stronger winds kick in ahead of next low pressure system. Otherwise a few light snow flurries possible tonight underneath low clouds but no accumulations expected. Our attention then turns to a stronger low pressure system approaching the AKPEN on Saturday this will bring gusty winds to the Southwest and increasing chances of snow. This low will cross into Bristol Bay Saturday evening and slowly track into Southwest Alaska Sunday producing snow across the area with a couple of inches possible. This low will weaken and move across the Kuskokwim Delta on Monday with continued light snow ending later on Monday with another inch or two of snow possible.
.SHORT TERM FORECAST BERING SEA/ALEUTIANS (Days 1 through 3: Friday Afternoon through Monday)
.
Broad upper level troughing continues to dominate the Bering Sea and Aleutians. The remnants of the upper low across Southwest Alaska is moving across the northern Bering producing light snow. Otherwise weak shortwaves are moving across the area with snow showers and low level northerly flow dominating the area tonight and tomorrow. Saturday into Sunday the low moving into Bristol Bay will bring snow and blowing snow to parts of zones 181 and 185 from Dutch Harbor, Cold Bay up towards the AKPEN. The upper forcing will not be strong enough to warrant a blowing snow advisory but several inches of snow expected, however less than advisory criteria. Sunday a gale force front will move into the Western Aleutians and move east into the central and eastern Aleutians and up towards the Pribilofs on Monday. This front will bring light snow and brief periods of blowing snow.
MARINE (Days 3 through 5): Monday through Wednesday.
Gulf of Alaska: A strong North Pacific low moves over Kodiak Island into the Alaska Peninsula on Monday with an estimated intensity of 970 mb. Model tracks and development vary somewhat, but forecast confidence is good. Widespread high end gale force winds and storm force winds move northward over the Gulf. Monday night the surface low will move over the Kenai Peninsula although the cyclonic flow will persisted over the Gulf Of Alaska until Tuesday. Brief ridging will follow in the wake of the low.
Aleutians/Bering: A strong Kamchatka low and front moves east through Tuesday. Widespread high end gale force winds anticipated with this system as the front moves to the Central Aleutians and across the Bering. Enhanced seas expected with this system as wave heights are forecast to reach 19 feet for the Bering side, and the Pacific side. A new low will develop in the NW Pacific on Monday and will stay south of the chain.
.LONG TERM FORECAST (Days 3 through 7): Monday through Thursday
.
A progressive pattern is on tap for this forecast period. The longwave trough extends from NE Russia to Southcentral Alaska and the Gulf Of Alaska. There are numerous embedded shortwaves. Expect a series of lows for the Bering, North Pacific and Gulf Of Alaska. Monday there will be surface low near Kodiak and a second low northeast of Attu Island. The jet stream is highly amplified. There is a jet core south of Kodiak with a magnitude of 155 knots and a second jet core with a magnitude of 170 knots south of Amchitka/Adak. Sensible weather-wise, expect snow in portions of southcentral Alaska. The Chugach Mountains, Kenai Mountains and Cordova Mountains will receive 2+ feet of new snow in a 24 hr window. As this low complex moves north additional snow accumulations anticipated. Right now the snow level is hovering between 800-1500 feet above sea level. Also on Tuesday the front out west will be near Cold Bay. Past Wednesday, divergence has emerged in the models but they are all showing a continuation of the wet pattern.
AFC WATCHES/WARNINGS/ADVISORIES.
PUBLIC
.
NONE. MARINE
.
Storms 119 120 130 13. Gales 132 138 139 140 150 155 165 170-176 180 352 413 414. FIRE WEATHER
.
NONE.
SYNOPSIS AND MODEL DISCUSSION
.
SEB SOUTHCENTRAL ALASKA
.
MV SOUTHWEST ALASKA/BERING SEA/ALEUTIANS
.
RC MARINE/LONG TERM
.
PS
---
Weather Reporting Stations
EDIT
(on/off)
&nbsp
Help
NOTE:
Click on distance to see the station location on a map
(wind in knots)
EDIT
(on/off)
&nbsp
Help
12
AM
1
AM
2
AM
3
AM
4
AM
5
AM
6
AM
7
AM
8
AM
9
AM
10
AM
11
AM
12
PM
1
PM
2
PM
3
PM
4
PM
5
PM
6
PM
7
PM
8
PM
9
PM
10
PM
11
PM
Last
24hr
NW2

NW2

N1

--

N3

NW6

NW4
G8

NW6
G9

NW7
G10

N2

--

NE2

--

--

SE3

--

E4

E5
G9

E12
G21

E11
G16

E10
G22

E15
G24

E16
G24

E15
G27

1 day
ago
NE8
G17

NE10
G19

E8
G17

NE9
G19

NE9
G21

NE8
G15

NE13
G20

N11
G21

NE8
G29

NE15
G27

NE6
G20

N10
G19

NE16
G27

NE17
G26

NE16
G22

NE12
G19

NE7
G15

NE7
G13

N6
G10

N6
G9

NE5
G9

N5
G10

--

NW1
G4

2 days
ago
S5

S6

S5
G8

S6

S6

SE6
G10

SE5

SE7

SE5

SE7

E9

E6
G9

E7
G10

E7
G10

E9
G13

E11
G14

E12
G15

NE4
G14

E8
G14

---
Airport Reports
EDIT
(on/off)
&nbsp
Help
Click EDIT to display multiple airports. Follow links for more data.
Airport
Dist
Age
Wind kt
Visibility
Sky/Weather
Temp
DewPt
Humidity
Pressure
Link to 5 minute data for PAKH

Wind History from AKH
(wind in knots)
1
AM
2
AM
3
AM
4
AM
5
AM
6
AM
7
AM
8
AM
9
AM
10
AM
11
AM
12
PM
1
PM
2
PM
3
PM
4
PM
5
PM
6
PM
7
PM
8
PM
9
PM
10
PM
11
PM
-12
PM
Last 24hr
--
--
--
--
--
--
--
--
--
--
--
--
--
--
--
--
--
--
--
--
--
--
--
--
1 day ago
--
--
--
--
--
--
--
--
--
--
--
--
--
--
--
--
--
--
--
--
--
--
--
--
2 days ago
--
--
--
--
--
--
--
--
--
--
--
--
--
--
--
--
--
--
--
--
--
--
--
--
---
Tide / Current Tables for Larsen Bay, Uyak Bay, Alaska
EDIT
Weekend mode (on/off)
(on/off)
&nbsp
Help
One Week of Data
Larsen Bay
Click for Map
Sat -- 04:32 AM AKST 14.44 feet High Tide
Sat -- 09:44 AM AKST Sunrise
Sat -- 10:29 AM AKST 2.23 feet Low Tide
Sat -- 11:49 AM AKST Moonrise
Sat -- 04:14 PM AKST 14.37 feet High Tide
Sat -- 05:08 PM AKST Sunset
Sat -- 09:46 PM AKST Moonset
Sat -- 10:50 PM AKST -1.69 feet Low Tide
Tide / Current data from XTide NOT FOR NAVIGATION
12
am
1
am
2
am
3
am
4
am
5
am
6
am
7
am
8
am
9
am
10
am
11
am
12
pm
1
pm
2
pm
3
pm
4
pm
5
pm
6
pm
7
pm
8
pm
9
pm
10
pm
11
pm
0.4
4.2
8.5
12.1
14.1
14.3
12.8
10.1
7
4.1
2.4
2.5
4.3
7.2
10.4
13
14.3
13.9
11.8
8.6
4.9
1.3
-1
-1.7
---
Tide / Current Tables for Uyak, Uyak Bay, Alaska
EDIT
(on/off)
&nbsp
Help
One Week of Data
Uyak
Click for Map
Sat -- 04:30 AM AKST 14.50 feet High Tide
Sat -- 09:44 AM AKST Sunrise
Sat -- 10:29 AM AKST 1.80 feet Low Tide
Sat -- 11:49 AM AKST Moonrise
Sat -- 04:12 PM AKST 14.45 feet High Tide
Sat -- 05:07 PM AKST Sunset
Sat -- 09:46 PM AKST Moonset
Sat -- 10:50 PM AKST -1.22 feet Low Tide
Tide / Current data from XTide NOT FOR NAVIGATION
12
am
1
am
2
am
3
am
4
am
5
am
6
am
7
am
8
am
9
am
10
am
11
am
12
pm
1
pm
2
pm
3
pm
4
pm
5
pm
6
pm
7
pm
8
pm
9
pm
10
pm
11
pm
1
4.8
8.8
12.3
14.3
14.3
12.7
10
6.7
3.7
2
2.1
4
7
10.3
13.1
14.4
13.9
11.9
8.8
5.1
1.7
-0.6
-1.2
---
Weather Map
(on/off)
&nbsp
Help
Weather Map
---
GEOS Local Image of Alaska
EDIT
NOTE:
East coast views moved to GEOS-16. They are experimental and not well supported by NOAA so they may not be correct so be warned. This change required redoing a large amount of the GOES code. If the image you are expecting is not showing, please let me know. You may need to use the EDIT function to update your location.
Link to Loop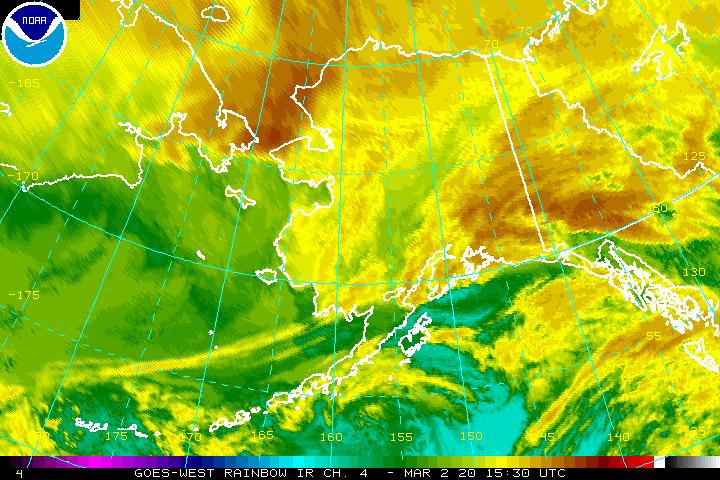 Other links:
Northern Pacific
Contential US
Full GOES-East
---
---
Cookie Policy:
This website uses cookies to save your settings. No personal information is saved. I do not collect statistics on your visit. You can disable cookies in your browser if you like but it is not recommended for this site. I do not sell cookies. Go to a bakery for that. In fact I do not sell anything. To disable cookies from L-36.com, please refer to the Help button in your browser.
Privacy Policy:
I do not sell or share any user data or anything else for that matter. The only personal information I save is in the site log which has a line for each page view which includes the IP address your browser sends in the header as well as which page you requested. I use this to block hackers and other bad actors. I do not use this raw data to create profiles on users. I periodically delete the log files. Google supplies the ads on this site. Because I do not track who you are, I cannot customize how these ads are served. They may be personalized to improve the ad experience. If you do not want personalized ads, please adjust the settings on the Google site HERE. NOTE: The best I can determine, this site is not subject to CCPA but I am doing my best to comply anyway.
Disclaimer:
The information on this web site has not been checked for accuracy. It is for entertainment purposes only and should be independently verified before using for any other reason. There are five sources. 1) Documents and manuals from a variety of sources. These have not been checked for accuracy and in many cases have not even been read by anyone associated with L-36.com. I have no idea of they are useful or accurate, I leave that to the reader. 2) Articles others have written and submitted. If you have questions on these, please contact the author. 3) Articles that represent my personal opinions. These are intended to promote thought and for entertainment. These are not intended to be fact, they are my opinions. 4) Small programs that generate result presented on a web page. Like any computer program, these may and in some cases do have errors. Almost all of these also make simplifying assumptions so they are not totally accurate even if there are no errors. Please verify all results. 5) Weather information is from numerous of sources and is presented automatically. It is not checked for accuracy either by anyone at L-36.com or by the source which is typically the US Government. See the NOAA web site for their disclaimer. Finally, tide and current data on this site is from 2007 and 2008 data bases, which may contain even older data. Changes in harbors due to building or dredging change tides and currents and for that reason many of the locations presented are no longer supported by newer data bases. For example, there is very little tidal current data in newer data bases so current data is likely wrong to some extent. This data is NOT FOR NAVIGATION. See the XTide disclaimer for details. In addition, tide and current are influenced by storms, river flow, and other factors beyond the ability of any predictive program.