Marine Weather and Tides
Homer, AK

Version 3.4
NOTICE
10/9/2019 Updated the Marine Zones.
9/4/2019 Fixed the weather maps due to NOAA moving them.
7/25/2019 New feature in the Airports section gives a link to 5 minute updates for data reports.
6/2/2019. Many thanks to a user for reporting an error on one of the Edit pages. The switch to PHP 7.2 caused many pages that previously worked to quit working. I fixed many but I still depend on users to report ones I missed. Please report errors HERE or send an email to me at L-36.com. Allen

---
| | | | | | | |
| --- | --- | --- | --- | --- | --- | --- |
| Sunrise 10:04AM | Sunset 3:44PM | Saturday December 14, 2019 2:56 PM AKST (23:56 UTC) | Moonrise 5:49PM | Moonset 11:26AM | Illumination 89% | |
NOTE: Some of the data on this page has not been verified and should be used with that in mind. It may and occasionally will, be wrong. The tide reports are by xtide and are NOT FOR NAVIGATION.
---
PKZ141 Kachemak Bay- 358 Am Akst Sat Dec 14 2019
.gale warning Sunday...
Today..SE wind 20 kt...strongest near the inlet. Seas 3 ft. Rain showers.
Tonight..E wind 30 kt. Seas 3 ft building to 5 ft after midnight. Rain.
Sun..E wind 35 kt becoming ne 25 kt in the afternoon. Seas 6 ft. Rain.
Sun night..NE wind 25 kt. Seas 5 ft.
Mon..NE wind 15 kt. Seas 2 ft.
Tue..NE wind 10 kt. Seas 2 ft.
Wed..NE wind 15 kt. Seas 2 ft.
---
7 Day Forecast for Marine Location Near Homer, AK
Hourly
EDIT
Help
---
&nbsp
(on/off)
&nbsp
Help
NOTE: mouseover dotted underlined text for definition
FXAK68 PAFC 141442 AFDAFC
Southcentral and Southwest Alaska Forecast Discussion National Weather Service Anchorage AK 542 AM AKST Sat Dec 14 2019
ANALYSIS AND UPPER LEVELS.
A closed blocking high continues to dominate the northern part of Alaska. A once strong gale force North Pacific low now over the southern Kenai is beginning to finally move inland as the upper closed low opens up into a shortwave trough. Over the Pacific Ocean,a strong storm force low along the eastern periphery of a larger upper trough is moving north into the Eastern Aleutians. This low is rather compact in nature as evidenced by satellite imagery and ASCAT wind passes from the polar orbiters, with the strongest core of cold air advection storm force winds still over the open waters of the Pacific. Over the mainland, extensive fog and stratus has formed over Southwest Alaska behind a departing and weakening sheared out upper shortwave trough. Rain showers are still pushing up along the North Gulf Coast, and some inland sprinkles are pushing over the Chugach into Anchorage and the western Kenai. Temps continue to run well above normal for inland Southcentral (except the Copper Basin).
MODEL DISCUSSION.
Same story as yesterday as the models are in excellent agreement with the large scale pattern heading out into next week now, but are in lesser agreement with the strong storm moving over the Eastern Aleutians today and tonight, and a series of frontal waves which will move up toward the Alaska Peninsula and into Bristol Bay Sunday. For now, a continued blend to the GFS was favored as it fits a good middle ground with everything, and shifts the strong eastern Aleutian low farther east which now puts the center over Dutch harbor, with the strongest winds all around Dutch.
AVIATION.
PANC
.
There still remains a chance of light precipitation as the upper low over the Gulf opens into a trough and crosses overhead of Anchorage between about 12Z and 18Z today. However, low level southeasterly flow will persist, so VFR ceilings should persist. Precipitation-type is also a challenge, with forecast soundings maintaining at least a small above freezing layer. Could see rain, freezing rain, or even snow - but precipitation will be very light and possibly not even measurable. As the upper wave passes by, Turnagain winds will bend into Anchorage, which will cause temperatures to jump to well above freezing. These winds will be relatively short-lived. As a front moves into the southwestern Gulf Saturday afternoon, down Inlet pressure gradients will strengthen and push the Turnagain wind back over the northern Inlet.
SHORT TERM FORECAST SOUTHCENTRAL ALASKA (Days 1 and 2.
Sat and Sun)
.
A vertically stacked low will eject over Southcentral early today while a new front will push into the Western and Northern Gulf of AK by tonight. The radar is showing widespread returns this morning from the Southern Susitna Valley down through Middleton Island. This is a result of the low moving from due south to north over the Kenai Peninsula and Cook Inlet. Even though the radars are active, precipitation is having a hard time making it to the ground for most places thanks to dry air in the low levels of the atmosphere. As moisture increases this morning, we still expect a likely chance of some wintry mix to fall around the Cook Inlet, to include possibly some freezing rain in the colder spots (East Anchorage). However, anything that does fall should be very light. For higher elevations such as Turnagain, Thompson, and Hatcher Passes, a couple inches of snow will be possible through the morning. Gusty southeast winds will also accompany this low through many of the usual gaps and higher terrain. Some of these winds could briefly mix into West Anchorage later today, though gusts should only be to about 25 mph at most.
A new front will start to work into the Western Gulf by tonight. This will cause the winds to switch around again for places near the Cook Inlet thanks to an offshore gradient. This means that the Matanuska Valley will remain breezy heading into Sun. Rainfall for the coastal areas will slowly wane late Sat and through much of Sun for the first time in several days. The exception to this will be Kodiak Island where the front will bring rain back in earnest by Sat afternoon. Then, by Sun afternoon, the front will start to track up along the southern Kenai Peninsula and bring steady rain back into Western Prince William Sound. Most inland locations will remain dry on Sun thanks to cross-barrier flow at mountain top. This flow will also continue to keep temperatures quiet mild for mid-December.
SHORT TERM FORECAST SOUTHWEST ALASKA (Days 1 and 2)
.
A low centered over the eastern Aleutians continues to slowly lift northward. Its front will spread in over Southwest today, bringing gusty southeasterly flow. The Kuskokwim Valley will not see much precipitation from this front today as the occluded system pulls the boundary northwestward across the Bering.
A second front moves into Southwest Sunday morning, bringing another round of gusty southeasterly winds. Current thinking is that most of the precipitation will be around the Bristol Bay area, though the Kuskokwim Delta coast may see trace amounts of snow Sunday. Winds will generally weaken by Sunday evening, as the low in the eastern Bering moves into the Gulf of Alaska for the start of the workweek.
SHORT TERM FORECAST BERING SEA/ALEUTIANS (Days 1 and 2).
Active weather continues for Bering this weekend. First, a strong low centered over the central Aleutians has brought gales to much of the southern Bering Sea with an area of storm force winds over the water on the south side of the low center. As this storm slowly lifts toward the northeast, storm force winds are possible on the western side of the low by this evening, mainly between Atka and Nikolski. As this low weakens and exits to the south, another low approaches the western Bering by Sunday afternoon. The associated front will bring gale force winds to the western Aleutians. Warmer, southerly flow will allow for precipitation to fall as rain on the east side of this storm, while mixed rain/snow or all snow will fall on the west side of the low as colder air is drawn down from the north.
MARINE (Days 3 through 5/Monday through Wednesday).
The storm track during this period will be from the Aleutian Islands eastward to the Gulf of Alaska. High end small craft advisories or gale warnings will be the norm as each storm system moves through. Forecast confidence with low and frontal positions is above average.
LONG TERM FORECAST (Days 3 through 7).
The global models are in decent agreement with the synoptic pattern for north Pacific and Bering through Thursday December 19th. At the onset of this forecast period there are two lows, one near the AKPEN and a Kamchatka low. There is a dome of high pressure between the two. There are some minor difference with the timing of two different cyclones but the forecast intensity is only a few millibars off, and the forecast track is very similar. Expect these systems to move from west to east with the first storm tracking into the Gulf Of Alaska. All the while, the second storm will head into the Bering with the frontal boundary pushing across the Aleutian chain. For Southcentral Alaska, temperatures will be near or slightly above normal. For the Anchorage metro area the chances of snow in this forecast period look very slim given the current run of the models.
AFC WATCHES/WARNINGS/ADVISORIES.
PUBLIC
.
NONE. MARINE
.
Storm Warning 155 172-174 130 131. Gale Warning 413 414 150 160 165 170 175-180 351 352 119 120 132-139 141. FIRE WEATHER
.
NONE.
SYNOPSIS AND MODEL DISCUSSION
.
JA SOUTHCENTRAL ALASKA
.
MSO SOUTHWEST ALASKA/BERING SEA/ALEUTIANS
.
KO MARINE/LONG TERM
.
SB/PJS
---
Weather Reporting Stations
EDIT
(on/off)
&nbsp
Help
NOTE:
Click on distance to see the station location on a map
(wind in knots)
EDIT
(on/off)
&nbsp
Help
3
PM
4
PM
5
PM
6
PM
7
PM
8
PM
9
PM
10
PM
11
PM
12
AM
1
AM
2
AM
3
AM
4
AM
5
AM
6
AM
7
AM
8
AM
9
AM
10
AM
11
AM
12
PM
1
PM
2
PM
Last
24hr
NE14
G19

NE14

NE15
G19

NE11
G15

NE14
G20

NE11
G15

NE11
G18

NE14
G18

NE11
G17

NE13
G18

NE12
G18

NE13
G20

NE15
G19

NE13
G17

NE11
G19

NE11
G16

NE10
G15

NE14
G21

NE13
G20

E10
G13

E6
G11

E8

E9

E4
G8

1 day
ago
NE16
G20

NE12
G17

NE12
G16

NE14
G19

NE11
G16

NE12
G17

NE16
G20

NE14
G18

NE14
G18

NE15
G23

E15
G19

NE15
G19

NE11
G18

NE16
G22

NE15
G22

NE19
G24

NE16
G24

NE15
G24

NE13
G23

NE17
G21

NE16
G21

NE12
G17

NE14
G19

E14
G18

2 days
ago
NE15
G22

NE14
G19

NE15
G23

NE16
G24

NE15
G19

NE17
G24

NE14
G22

NE17
G23

NE12
G18

NE14
G21

NE15
G19

NE12
G17

NE11
G17

NE12
G18

NE10
G15

NE14
G17

NE15
G20

NE13
G19

NE15
G21

NE14
G20

NE13
G17

NE13
G18

NE14
G17

NE12
G18

---
Airport Reports
EDIT
(on/off)
&nbsp
Help
Click EDIT to display multiple airports. Follow links for more data.
Link to 5 minute data for PAHO

Wind History from AHO
(wind in knots)
3
PM
4
PM
5
PM
6
PM
7
PM
8
PM
9
PM
10
PM
11
PM
12
AM
1
AM
2
AM
3
AM
4
AM
5
AM
6
AM
7
AM
8
AM
9
AM
10
AM
11
AM
12
PM
1
PM
2
PM
Last 24hr
N4
NE7
NE9
NE9
N6
NE5
Calm
SW3
NE6
Calm
Calm
E7
NE3
Calm
Calm
Calm
N4
6
4
5
SE15
G26
E12
NE6
E4
1 day ago
NE7
S4
NE4
E7
Calm
E4
Calm
NE3
NE3
NE6
NE7
NE4
NE4
E8
E11
NE9
NE8
NE5
E3
NE7
NE6
NE6
NE8
NE6
2 days ago
NE11
G21
NE6
NE13
NE7
NE5
N6
NE5
NE6
E6
E8
E11
NE10
NE8
G16
NE12
NE8
N5
NE5
E6
NE6
E8
NE5
NE8
Calm
NE5
---
Tide / Current Tables for Homer, Kachemak Bay, Cook Inlet, Alaska
EDIT
Weekend mode (on/off)
(on/off)
&nbsp
Help
One Week of Data
Tide / Current data from XTide NOT FOR NAVIGATION
---
Tide / Current Tables for Halibut Cove, Kachemak Bay, Cook Inlet, Alaska
EDIT
(on/off)
&nbsp
Help
One Week of Data
Tide / Current data from XTide NOT FOR NAVIGATION
---
Weather Map
(on/off)
&nbsp
Help
Weather Map
---
GEOS Local Image of Alaska
EDIT
NOTE:
East coast views moved to GEOS-16. They are experimental and not well supported by NOAA so they may not be correct so be warned. This change required redoing a large amount of the GOES code. If the image you are expecting is not showing, please let me know. You may need to use the EDIT function to update your location.
Link to Loop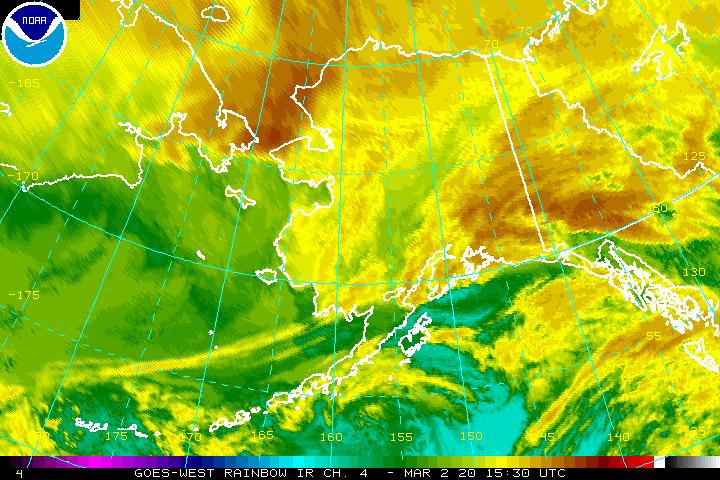 Other links:
Northern Pacific
Contential US
Full GOES-East
---
(on/off)
&nbsp
Help

Ad by Google

---
Cookie Policy:
This webiste uses cookies to save your settings. No personal information is saved. You can disable cookies in your browser if you like but it is not recommended for this site. I do not sell cookies. Go to a bakery for that. In fact I do not sell anything. To disable cookies from L-36.com, please refer to the Help button in your browser.
Privacy Policy:
I do not sell or share any user data or anything else for that matter. I do not keep site logs longer than I need to to keep bad actors off the site. Basically, I delete them after looking at them. If you are subject to CCPA, Google ads on this site will not be based on your past behavior so you will likely not see an ad for a lawn mower just because you looked for one at a big box website. I do not believe this site is subject to CCPA but I am doing what I can to follow the guidelines anyway.
Disclaimer:
The information on this web site has not been checked for accuracy. It is for entertainment purposes only and should be independently verified before using for any other reason. There are five sources. 1) Documents and manuals from a variety of sources. These have not been checked for accuracy and in many cases have not even been read by anyone associated with L-36.com. I have no idea of they are useful or accurate, I leave that to the reader. 2) Articles others have written and submitted. If you have questions on these, please contact the author. 3) Articles that represent my personal opinions. These are intended to promote thought and for entertainment. These are not intended to be fact, they are my opinions. 4) Small programs that generate result presented on a web page. Like any computer program, these may and in some cases do have errors. Almost all of these also make simplifying assumptions so they are not totally accurate even if there are no errors. Please verify all results. 5) Weather information is from numerious of sources and is presented automatically. It is not checked for accuracy either by anyone at L-36.com or by the source which is typically the US Government. See the NOAA web site for their disclaimer. Finally, tide and current data on this site is from 2007 and 2008 data bases, which may contain even older data. Changes in harbors due to building or dredging change tides and currents and for that reason many of the locations presented are no longer supported by newer data bases. For example, there is very little tidal current data in newer data bases so current data is likely wrong to some extent. This data is NOT FOR NAVIGATION. See the XTide disclaimer for details. In addition, tide and current are influenced by storms, river flow, and other factors beyond the ability of any predictive program.