Marine Weather and Tides
Nunam Iqua, AK

Version 3.4
NOTICE
10/9/2019 Updated the Marine Zones.
9/4/2019 Fixed the weather maps due to NOAA moving them.
7/25/2019 New feature in the Airports section gives a link to 5 minute updates for data reports.
6/2/2019. Many thanks to a user for reporting an error on one of the Edit pages. The switch to PHP 7.2 caused many pages that previously worked to quit working. I fixed many but I still depend on users to report ones I missed. Please report errors HERE or send an email to me at L-36.com. Allen

---
| | | | | | | |
| --- | --- | --- | --- | --- | --- | --- |
| Sunrise 10:04AM | Sunset 3:44PM | Saturday December 14, 2019 9:17 AM AKST (18:17 UTC) | Moonrise 6:13PM | Moonset 12:53PM | Illumination 91% | |
NOTE: Some of the data on this page has not been verified and should be used with that in mind. It may and occasionally will, be wrong. The tide reports are by xtide and are NOT FOR NAVIGATION.
---
---
7 Day Forecast for Marine Location Near Nunam Iqua, AK
Hourly
EDIT
Help
---
&nbsp
(on/off)
&nbsp
Help
NOTE: mouseover dotted underlined text for definition
FXAK69 PAFG 141513 AFDAFG
Northern Alaska Forecast Discussion National Weather Service Fairbanks AK 613 AM AKST Sat Dec 14 2019
SYNOPSIS.
Highlights are: Most of Northern Alaska will remain warmer and drier than normal into next week, with a cooling trend towards normal in the second half of next week. The exception will be the West Coast from the Bering Strait south where snow will occur at times now through Sun. Southeast winds 20-30 kt over Western Capes will become east 15-25 kt along most of the West Coast today and continue into Sun. East winds will gust to 40 mph near Delta Junction today, decrease slightly tonight, then increase to 40 mph again on Sun and continue into Mon. South winds gusting to 40 mph will develop through Alaska Range Passes today, decrease tonight, then increase again Sun into Mon. East winds will increase to gusts to 40 mph at Barter Island on Mon and cause blowing snow there Mon.
Aloft
.
The long wave pattern consists of a high amplitude ridge over Eastern Alaska and Western Canada and a high amplitude trough over the Bering Sea and North Central Pacific. This pattern will persist through the weekend, with the trough building east across the Gulf of Alaska early next week and undercutting the ridge, with the ridge pushing north of Alaska late next week. This means that the southerly flow now occuring along the West Coast of Alaska will continue through tonight, and then become more southeast on Sun. This will allow snow that is now occuring along the West Coast to continue today and tonight, and then taper off Sun into Mon. This also means that the Interior and North Slope of Alaska will remain dry under the ridge with above normal temps and strong inversions with hills and windy areas in the 20s today and Sun. There will be a cooling towards normal in the second half of next week as the ridge aloft build north.
Surface
.
A 993 mb low near Wrangel Island will move north today. A low pressure trough stretching east from this low to just north of Barter Island will move along the Arctic Coast of Alaska by 3pm Sat, and then move to just south of Barter Island to Point Lay by 3am Sun and then persist into Mon. Flow along the Arctic Coast is now southwest blowing offshore towards the trough and keeping the Arctic Coast mainly clear. As the trough moves back onshore this afternoon/evening the low level winds will turn east and bring stratus and fog back to the Arctic Coast.
High pressure well north of the Arctic Coast will build south tonight through Mon. This will cause the gradient to increase Sun through Mon, with east winds increasing to 20-30kt by Mon, with gusts to 40 mph and blowing snow possible in zones 203 and 204 late Mon.
A 990 mb low 50 NM west of Gambell will move to 150 NM west of Point Lay as a 1002 mb low by 3am Sun, then continue moving north. A weather front stretching from this low to the YK Delta will move to the Bering Strait to the YK Delta by 3pm Sat, and then remaining into Sun, and then drifting west to Gambell to St Paul by Mon. Expect snow along this front through Mon, which means that zones 211, 213 and 214 will have snow today, then zones 213 and 214 tonight and Mon, and then moving west to just zones 214 by Sun night. Expect 1-3 inches of snow in these zones.
A strong low in the southeast Bering Sea will move into Bristol Bay Sun and then weaken into Mon. This will cause weak southerly chinook winds across the Alaska Range today this this evening, then turn decreasing and turning SE tonight. This will cause east winds gusting to 40 mph from Delta Junction to Nenana today, and south winds gusting 40 mph through Alaska range Passes today. Winds in both areas will decrease tonight as flow aloft turns SE and weakens.
As this low moves into Bristol Bay Sun, this will tighten the gradient across the West Coast and Interior, with east winds 15-25 kt along the West Coast, and 15 mph across the Interior, with gusts to 40 mph again developing near Delta Junction.
DISCUSSION.
Models initialize well aloft and show similar solutions through Mon. Precipitation has slight differences in location and timing, and we will use a blend of the NAM/GFS/ECMF for precip through Mon, with zones 211 213 and 214 having precip likely from today into Sun, with a chance of less at other times and in other areas of the West Coast. At the surface models verify well at 06Z with the exception of the trough just north of the Arctic Coast that has lower pressure than models indicate at 06Z. Expect trough will remain a bit deeper than models indicate Sat and Sat night, partly due to the , and that winds will be 3 kt stronger than models indicate.
Coastal Hazard Potential Days 3 and 4
.
None.
AFG WATCHES/WARNINGS/ADVISORIES.
Brisk Wind Advisory for PKZ200-PKZ225.
JB DEC 19
---
Weather Reporting Stations
EDIT
(on/off)
&nbsp
Help
NOTE:
Click on distance to see the station location on a map
---
Airport Reports
EDIT
(on/off)
&nbsp
Help
Click EDIT to display multiple airports. Follow links for more data.
Airport
Dist
Age
Wind kt
Visibility
Sky/Weather
Temp
DewPt
Humidity
Pressure
Link to 5 minute data for PAEM

Wind History from AEM
(wind in knots)
7
PM
8
PM
9
PM
10
PM
11
PM
12
AM
1
AM
2
AM
3
AM
4
AM
5
AM
6
AM
7
AM
8
AM
9
AM
10
AM
11
AM
12
PM
1
PM
2
PM
3
PM
4
PM
5
PM
6
PM
Last 24hr
--
--
--
--
--
--
--
--
--
--
--
--
--
--
--
--
--
--
--
--
--
--
--
N7
1 day ago
--
--
--
--
--
--
--
--
--
--
--
--
--
--
--
--
--
--
--
--
--
--
--
--
2 days ago
--
--
--
--
--
--
--
--
--
--
--
--
--
--
--
--
--
--
--
--
--
--
--
--
---
Tide / Current Tables for Kwikluak Pass, Yukon River, Bering Sea, Alaska
EDIT
Weekend mode (on/off)
(on/off)
&nbsp
Help
One Week of Data
Tide / Current data from XTide NOT FOR NAVIGATION
---
Tide / Current Tables for Black, Black River, Bering Sea, Alaska
EDIT
(on/off)
&nbsp
Help
One Week of Data
Tide / Current data from XTide NOT FOR NAVIGATION
---
Weather Map
(on/off)
&nbsp
Help
Weather Map
---
GEOS Local Image of Alaska
EDIT
NOTE:
East coast views moved to GEOS-16. They are experimental and not well supported by NOAA so they may not be correct so be warned. This change required redoing a large amount of the GOES code. If the image you are expecting is not showing, please let me know. You may need to use the EDIT function to update your location.
Link to Loop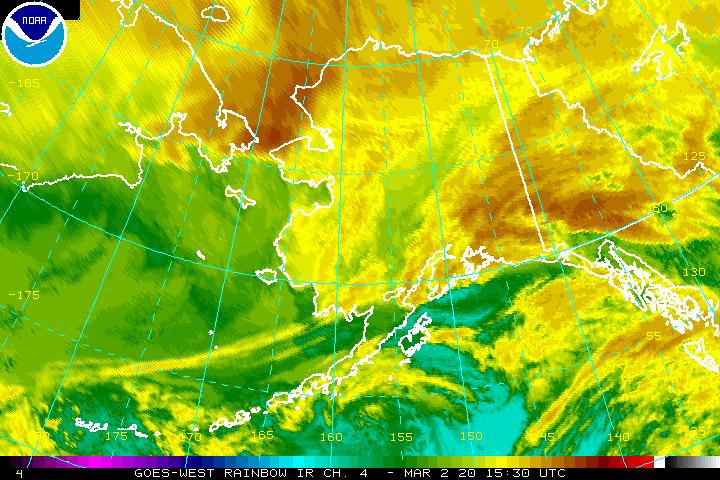 Other links:
Northern Pacific
Contential US
Full GOES-East
---
(on/off)
&nbsp
Help

Ad by Google

---
Cookie Policy:
This webiste uses cookies to save your settings. No personal information is saved. You can disable cookies in your browser if you like but it is not recommended for this site. I do not sell cookies. Go to a bakery for that. In fact I do not sell anything. To disable cookies from L-36.com, please refer to the Help button in your browser.
Privacy Policy:
I do not sell or share any user data or anything else for that matter. I do not keep site logs longer than I need to to keep bad actors off the site. Basically, I delete them after looking at them. If you are subject to CCPA, Google ads on this site will not be based on your past behavior so you will likely not see an ad for a lawn mower just because you looked for one at a big box website. I do not believe this site is subject to CCPA but I am doing what I can to follow the guidelines anyway.
Disclaimer:
The information on this web site has not been checked for accuracy. It is for entertainment purposes only and should be independently verified before using for any other reason. There are five sources. 1) Documents and manuals from a variety of sources. These have not been checked for accuracy and in many cases have not even been read by anyone associated with L-36.com. I have no idea of they are useful or accurate, I leave that to the reader. 2) Articles others have written and submitted. If you have questions on these, please contact the author. 3) Articles that represent my personal opinions. These are intended to promote thought and for entertainment. These are not intended to be fact, they are my opinions. 4) Small programs that generate result presented on a web page. Like any computer program, these may and in some cases do have errors. Almost all of these also make simplifying assumptions so they are not totally accurate even if there are no errors. Please verify all results. 5) Weather information is from numerious of sources and is presented automatically. It is not checked for accuracy either by anyone at L-36.com or by the source which is typically the US Government. See the NOAA web site for their disclaimer. Finally, tide and current data on this site is from 2007 and 2008 data bases, which may contain even older data. Changes in harbors due to building or dredging change tides and currents and for that reason many of the locations presented are no longer supported by newer data bases. For example, there is very little tidal current data in newer data bases so current data is likely wrong to some extent. This data is NOT FOR NAVIGATION. See the XTide disclaimer for details. In addition, tide and current are influenced by storms, river flow, and other factors beyond the ability of any predictive program.